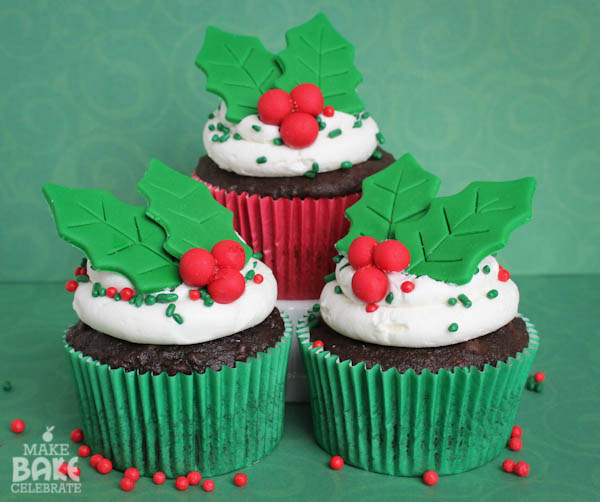 Deck the halls with boughs of holly….fa-la-la-la-la-la-la-la-la.
 Tis the season to be jolly, fa-la-la-la-la-la-la-la-la. 
What the lyrics don't tell you is that all that decking of the halls takes time, lots of time. Those Christmas celebrations fill the calendar to the max, Christmas card duty hangs over your head like a brick, and the "gay apparel" is one load too many. Then cookies need baked, presents need wrapped, add in a snow storm, and a few kiddos hyped up on hot chocolate and candy canes…and sticking with the jolly thing becomes almost impossible. At least that's how it's been around here lately…
So if you've noticed it's been just a wee bit quiet on MBC this month you know why. So many treats have been left unbaked or unshared, ideas never made to to reality, the chores are piling up…the kids are itching to play in the snow…and I am exhausted! All that holiday cheer has me wanting a nap…or maybe a vacation. :)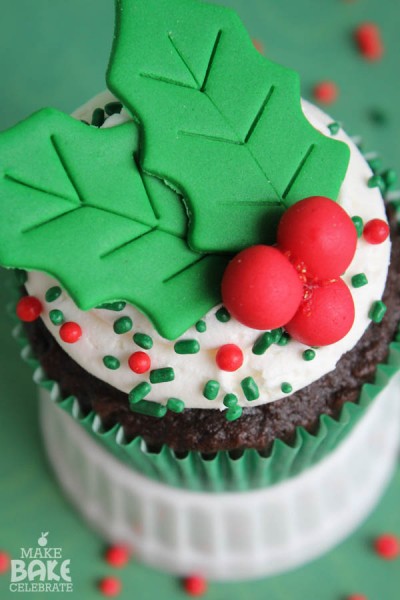 But don't worry…I'm not ba-humbuging just yet! I love Christmas far too much for that. It's just been a really busy month…between hosting a large birthday party, a trip to home, launching the website, holiday projects, potty training, and oh yea life in general…it's been a just a little crazy here. So those ideas will have to wait till next year. When maybe we have a little less on our plate. :)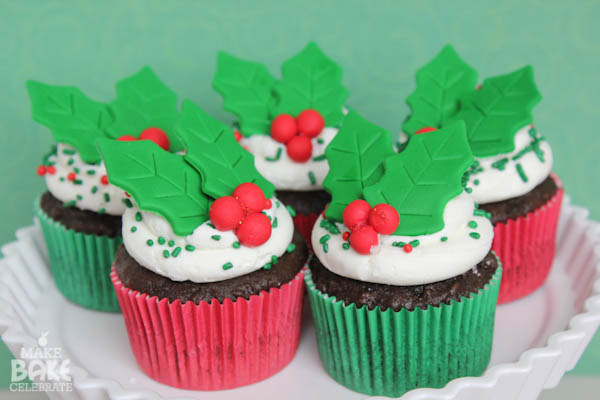 Just wanted to stop in an show you guys one last quick holiday treat idea. Because if your anything like me right now your tossing out those fancy plans you had and looking for something quick. I had  adorable Christmas cupcakes planned out in my head for the hubs office party…right up until I sat down to make them and realized my energy level was zero….so these were plan B. And honestly, I like plan B :). These are so easy you probably don't need any help at all…but just in case here's a few quick pictures of how I made these.
You will need leaf green fondant, red fondant, rolling pin, small holly leaf cutter, water, food safe paint brush, and red sanding sugar (optional). I used my holly leaf cutter that came with the Wilton Christmas mini set which can be found at almost any craft store, Wal-Mart, or Target.
Step 1: On wax paper roll out fondant and cut out 2 leafs per cupcake you need.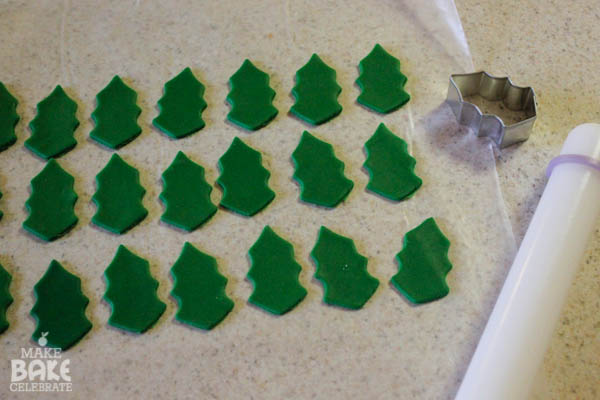 Step 3: Right away use a knife and small tool to make lines in the leaf. I used my handy boo boo stick but just look around for something that will work!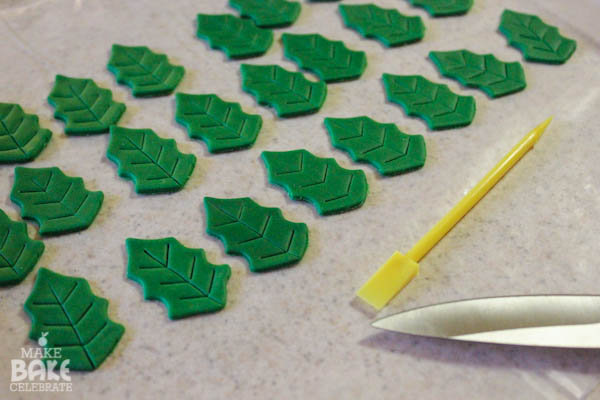 Step 4: This is the fastest way I have found to make many balls! Roll a long coil out about 14in thick. Then slice into 1/4in slices. Quickly take each piece and roll into a ball. You will need three for each cupcake.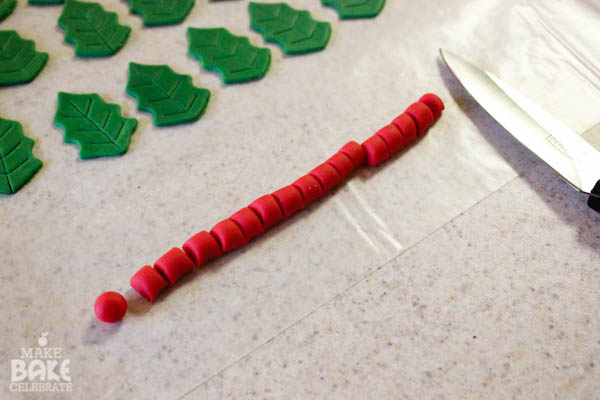 Step 5: Place the balls (berries) into groups of three. Using a food safe paint brush drop a drop of warm water in the center of each berry group.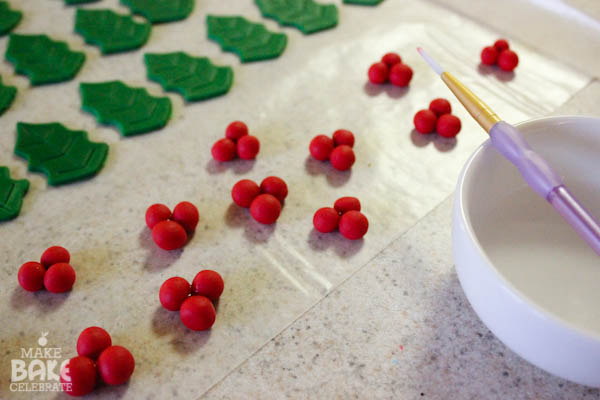 Step 6: Let the water soak in for about 10 minutes then sprinkle with red sanding sugar. This will give it a small finishing touch! You could also use white if you would like.
Let the toppers dry for at least an hour, then you can assemble them on the cupcake. Pushing one leaf on then the other and then the berries. I was in a hurry and these went straight to the cupcakes as soon as the firmed up a bit. However, if your making ahead of time you can "glue" all the pieces together gently with warm water and let dry for several hours or over night. Then they can be stuck as one piece on the cupcake. Just a note…..fondant toppers stick best on to icing that has just been pipped and has not had time to crust and get soggy when left on over night. SO it's best to have your icing bag and toppers ready then a few hours before needed pipe on icing and apply toppers.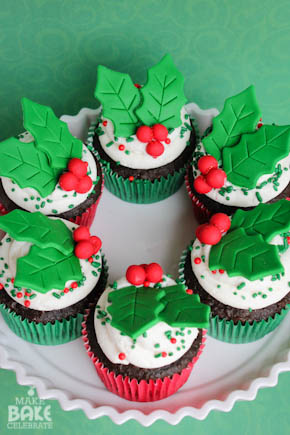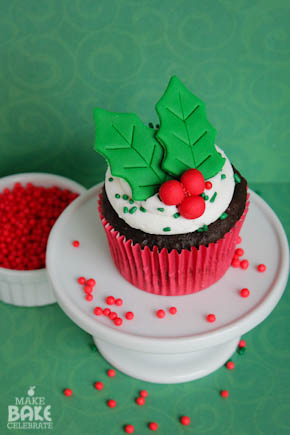 Super simple easy idea to top your favorite cupcake, and the perfect centerpiece for your Christmas dinner. How sweet are these all lined up like a wreath?!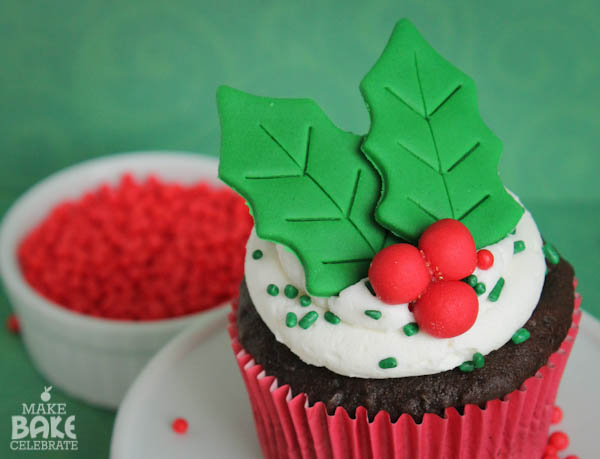 Now it's time to get back to all that fa la la la – ing around here. Just wanted to let you know this will be my last post of the year! Crazy right? And when I come back…I might just have a new site to show you around! Eek! Just maybe….
Since it's been so busy around here I plan on spending the next week with our little family. We're staying home for Christmas, and we don't have any family coming in. So the big plans are no plans…to take time to unwind and enjoy the season. No ballet, no work, no school, no parties,… no deadlines.  Instead we plan on letting the kiddos play in the snow, bake messy cookies while sipping hot cocoa with extra marshmallows, watching Christmas movies, playing board games, pajamas all day, wrapping gifts, cranking the Christmas carols, and whatever else they come up with :). Spending time with my sweeties and letting go of the holiday demands while teaching them the true meaning of Christmas. I hope you get a chance to do the same and I pray you have an incredibly sweet Christmas. Merry Christmas from our family to yours! See you next year…