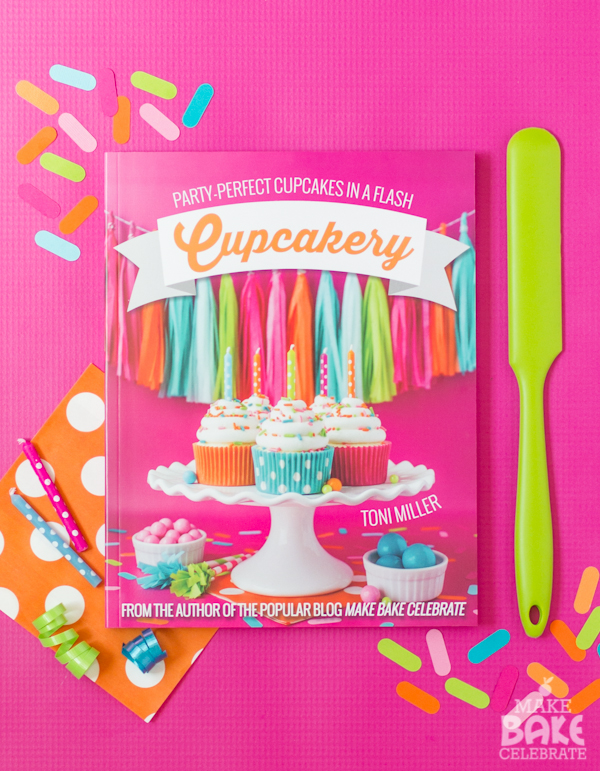 You guys! Cupcakery's official release is just over a week away (June 9th). A week! But hey, patience, it's never been my kinda virtue. So why not start the celebration now! Last week I received stacks and stacks of these little beauties on my door step…printed, with pages, and pictures, and that fresh off the shelf smell! Seriously, guys it's real and it's here! (Well, almost.) And I absolutely love it! I can't hardly wait to share it with you guys!
Sry this giveaway and promotion has ended!
Starting June 15th we'll be celebrating the official Cupcakery launch with an awesome blog tour and giveaway. We'll be stopping at blogs all over the net to give you their thoughts on Cupcakery and giveaway some pretty sweet prizes to go with! Today I want to celebrate with you guys here on Make Bake Celebrate!To celebrate the wrap up of Cupcakery pre-orders now through June 8th you can enter to win this custom Mama & Madison apron. Is it not the CUTEST EVER! AND for those of you who have pre-ordered our friends at Sweets & Treats have a special gift for you, 20% off your entire order! That way you can bake up some cupcakes from your new book and make sure their looking adorable in their bake brite liners. And one of you will be looking extra cute right along with your cupcakes wearing this Mama & Madison apron!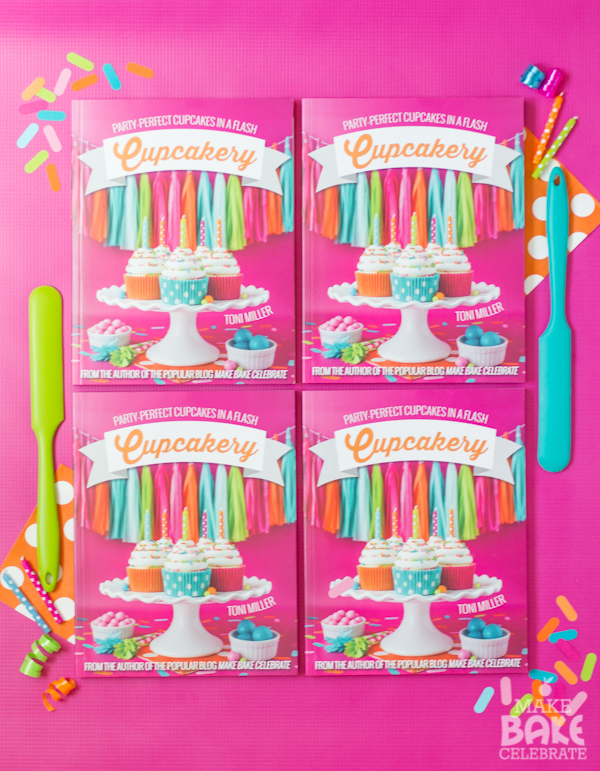 To celebrate you can enter below and for those of you who have pre-ordered you can simply send a proof of purchase to toni@makebakecelebrate to receive your exclusive discount code! If you haven't done so yet, you're just in time! You can pre-order your copy here, here, or here. Psst. A sweet little birdie told me copies are already being sent out!
But wait! Do you want a signed copy? I have a special stack of signed copies set aside just for you! You can receive a signed copy of Cupcakery by emailing me using the contact tab above or sending an email to me at toni@makebakecelebrate.com! Total is 23 with shipping!
Who's ready to win the cutest apron EVER!?
Use the rafflecopter below! Earn bonus enteries by visiting MBC and Sweets and Treats on Facebook or Instagram!
*Giveaway is open to US entries only. No purchase necessary. Winner will be chosen at random on June 9, 2015. Make Bake Celebrate has the right to display winner name(s) on all electronic publications including but not limited to; blog posts, Facebook, Instagram, Twitter, and Pinterest. If for any reason a prize is unavailable Make Bake Celebrate has the right to replace said prize for another similar item of equal value.