So. How are you guys today, good? Me too. I've got a giveaway for you today. Yep.
Ok, I can't play it cool, I AM SO EXCITED!!! I know, I know, I say it all the time. But I'm really excited today. Because today not only am I giving you a sneak peak of one of the cupcakes in the upcoming MBC Book Cupcakery, I'm giving you guys the VERY FIRST look at a BRAND NEW product!…Oh, and the product was CUSTOM DESIGNED for Cupcakery!
Ok, I'll chill it out with the capitals but it's going to take a lot to contain this excitement. Let's back up just a bit before we get to the good stuff. Earlier this fall I was getting my daily hourly intake of Instagram when I came across a post by one of our sweet sponsors Cake Pop Stand Co. featuring a 3-tier cake pop stand. At the time I was styling and baking recipes within the book. I saw this 3-tier cake pop stand and DING cupcakes were done…oh and I had an idea. I needed one of these stands, but not for cake pops…for cupcakes! I had the perfect plan in mind. Muwhahahaha.
I contacted the sweet Janine of Cake Pop Stand Co. (Remember this super sweet stand she made for MBC?) and she was more then happy to accept the challenge. Fast forward a few weeks and I open my package from Cake Pop Stand Co. to say the least my expectations were uh, exceeded.
Ready to see it? And see the first released image in Cupcakery?
Wait for it…
Wait for it…
Keep scrolling…
And scrolling…
Tada!!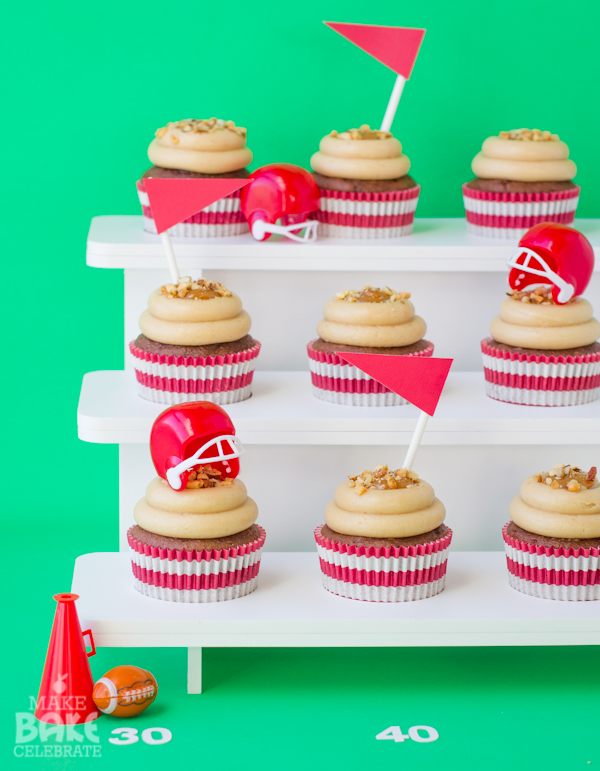 You guys, I am IN LOVE with this stand. First, how perfect is it for these football themed cupcakes! I just couldn't help but turn it into a little stadium! You're going to have to wait for book release for the recipe though. ;) I. Can't. Wait. (Psst. Get your rugby stripe cupcake liners here.)
But let's talk stand…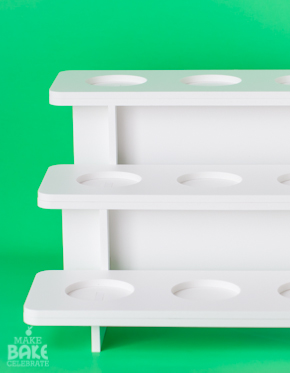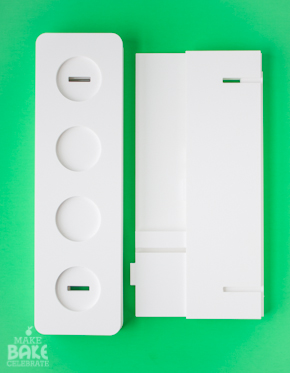 What blew me away the moment I opened the package was the fact that it was in pieces! Yep, this baby stores completely flat! I mean have you seen my studio, the last thing I need is another large stand to shove nicely organize in my studio. It comes in just a few flat pieces that are really easy to assemble when needed. Seriously like 5 seconds.
Once I overcame my holy-cow-this-folds-flat excitement I then realized that there were cavities for the cupcakes to actually sit in! Ohhhh my goodness, expectations blown away right there. When I asked for this cupcake stand, I assumed she would simply adjust the measurements, and then just skip the holes for cake pops. Nope, she actually created little cavities to sit the cupcakes right in. Keeping them secure and evenly spaced. How's that for a display, eh?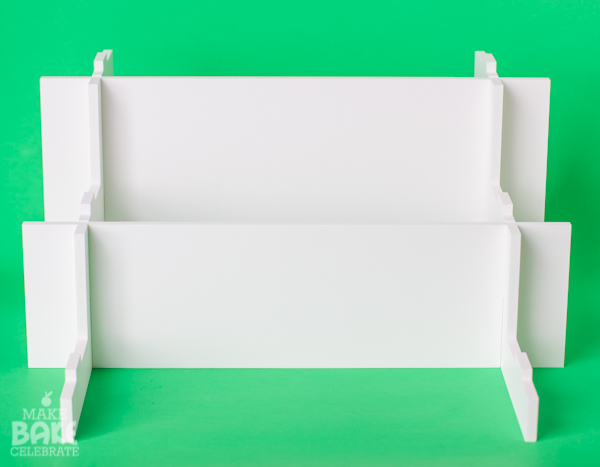 Just to give you a better idea of how this thing works…first you just insert the middle pieces in the side pieces. Then you just add the three top pieces.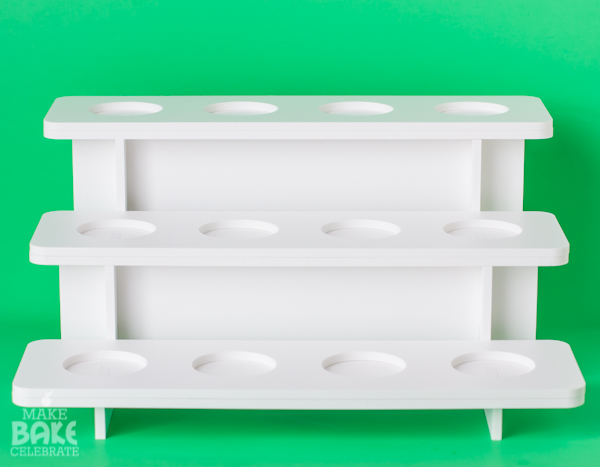 And tada! Your new cake stand is ready to go! I can't wait to get more of these stands!
Speaking of more stands…as I said before I have a giveaway for you. Cake Pop Stand Co. would like to giveaway one of these stands to a lucky MBC reader!!! But don't worry. Even if you're not the lucky one, or if you have to have one right this minute – they are available in her shop! Head on over here to purchase!
Simply enter below using the Rafflecopter, the giveaway will end and the winner will be picked at random at 12:01AM on January 15th. You can enter by visiting one of our Facebook fan pages, following us on Instagram, or leave a comment below letting me know how you would put your stand to use. Good luck guys!