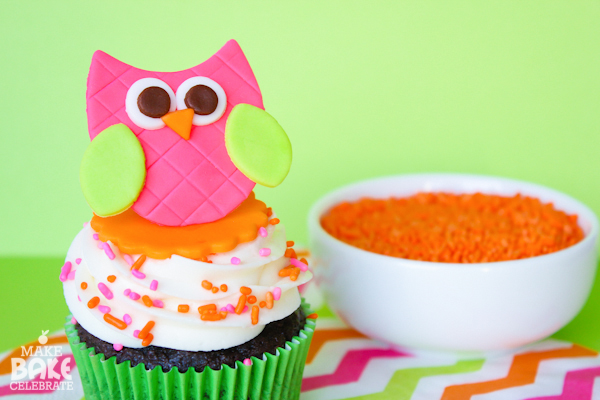 It's true! It's true! Today I'm sharing yet another one of my most treasured tools annnddddddd giving you guys a chance to win some of your own! Happy dance. Happy dance. The cutters I'm sharing today are from the insanely talented Autumn Carpenter's newest line of cupcake cutie cutters: perfect for fondant, gum paste, small cookies, and so on. As you guys probably know, cupcakes are hands down my favorite treat to make…add a sweet little fondant topper, you could lose me for days. I just love creating little edible art to sit on top of cupcakes, but finding cutters to help out with these tasks is almost impossible. I can't tell you how much time I've spent hand cutting little noses, or eyes, or searching through my stash to find a cutter I could at least alter to get the shape I wanted. A great cutter makes a project go so much smoother. So when Autumn asked me awhile ago if I wanted to try out some of her new cutter sets you better believe I said absolutely! (while doing my happy dance)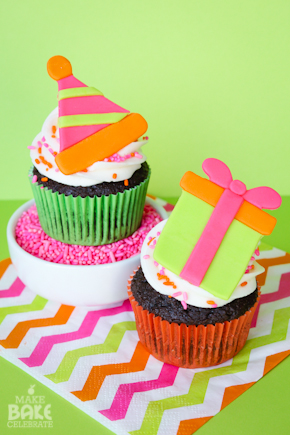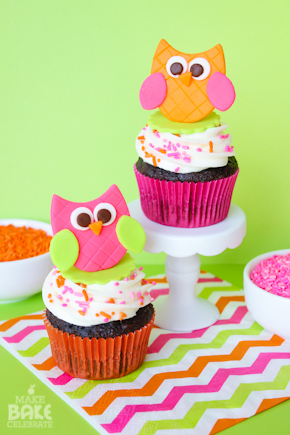 I chose to start out with the adorable fluttering friends set and the birthday set, Autumn has a dozen sets you can check out here! But that's not even the best part, she also has an accent set with 18 tiny little shapes to correspond with the cutters! I simply can not say enough how much I LOVE these tiny cutters!!! I use them for everything, seriously everything. I've been dying to share them with you!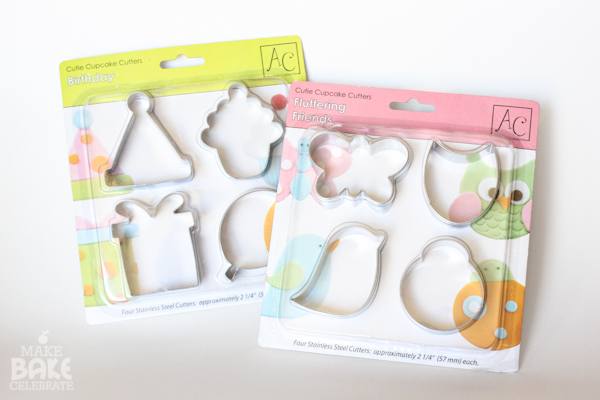 Can't you guys just see all the possibilities!!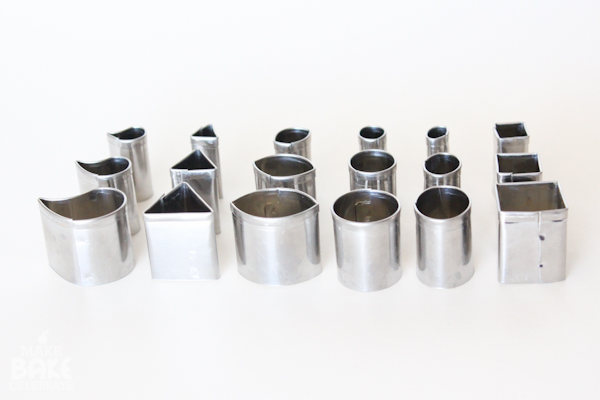 The great thing about these little cutter sets is they can be as simple or as extravagant as you would like. You could stick to the basics and simply cut out the shapes shown to make easy toppers. Or you could add patterns, texture, details, apply them to cakes, cookies…the possibilities are endless! I have several ideas for these little cuties that will be popping up on the blog in the near future, but for today I wanted to show you just how easy it is to make adorable toppers with these cutters.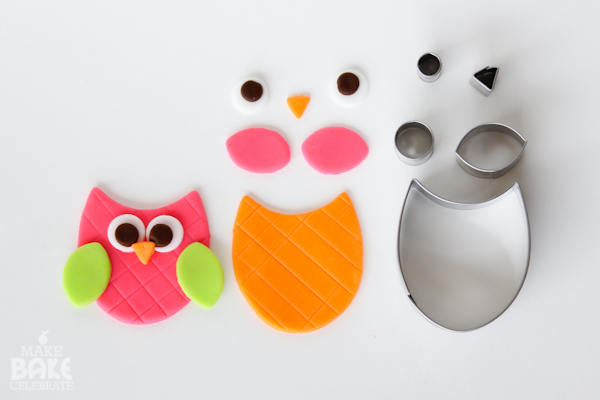 First I picked out some fun colors and colored a bit of fondant with gel coloring. Then I rolled it out using a guided fondant rolling pin and some parchment paper. Next up I used the cutters to simply cut out each piece I needed. For the owls I layered the pieces using a little bit of warm water and a food safe paint brush to "glue" them together. Notice the print on the owls body? I used a knife to press in some lines to give it an easy texture.
After the owls were done I decided to add something a little more. I used a small scallop circle cutter and cut out a base then "glued" an owl to each base. Now they are cute little standing owl toppers!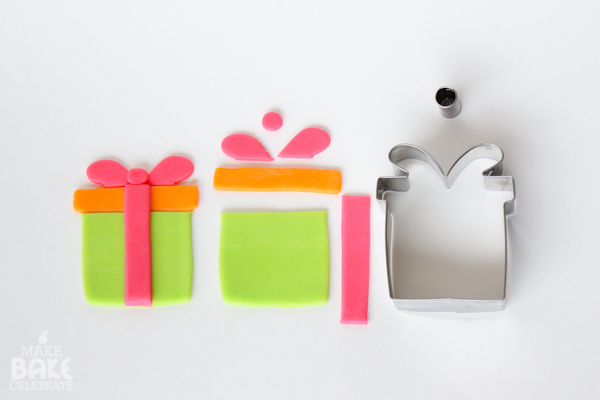 For the birthday set I used the same cutter and pieced it together instead of layering. I used the present cutter multiple times on each color and then trimmed away the parts I didn't need with a knife. After, I "glued" the pieces together with a little warm water and food safe paint brush, then let them dry for a few hours.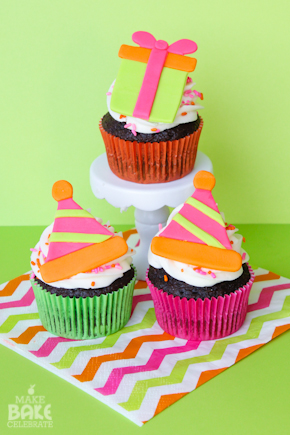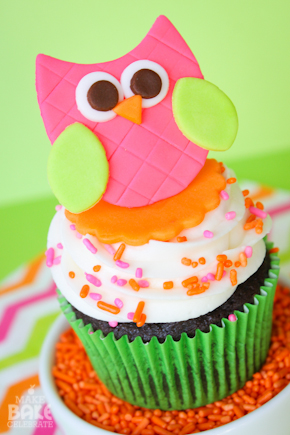 So what do you guys think? Are you as excited about these toppers as I am?! Would you like to win some of your own?! The lovely Autumn carpenter and our awesome sponsor Country Kitchen SweetArt would like to give away 4 of our readers a set of their cutters (birthday OR fluttering friends, winners pick!) AND a set of the mini accent cutters!! All you have to do is enter below by "liking" MBC or Country Kitchen SweetArt on Facebook, following MBC on Instagram, or leave a comment below! That's 4 chances to win 4 prizes!
If you're anything like me you probably can't wait to see the rest of the cutters! Hop on over to Autumn Carpenter's site and check out the whole collection OR shop for them here and Country Kitchen SweetArt. Good luck everybody!