A few weeks ago my not so little anymore cupcake turned 10. Would you believe when I started this blog she was a toddler? A TODDLER! We had a little belated celebration this week due to the location being booked solid in December. (Which totally bought me a few extra weeks during the holidays, winning.) Naturally the celebration called for cake, more specifically a Cookies & Cream Cake.
When it was time for her to put in her golden birthday cake request I cringed a little because I already knew what she wanted. As a matter of fact I always know what she wants because she requests the same thing every…single…time.
Oreo Cupcakes.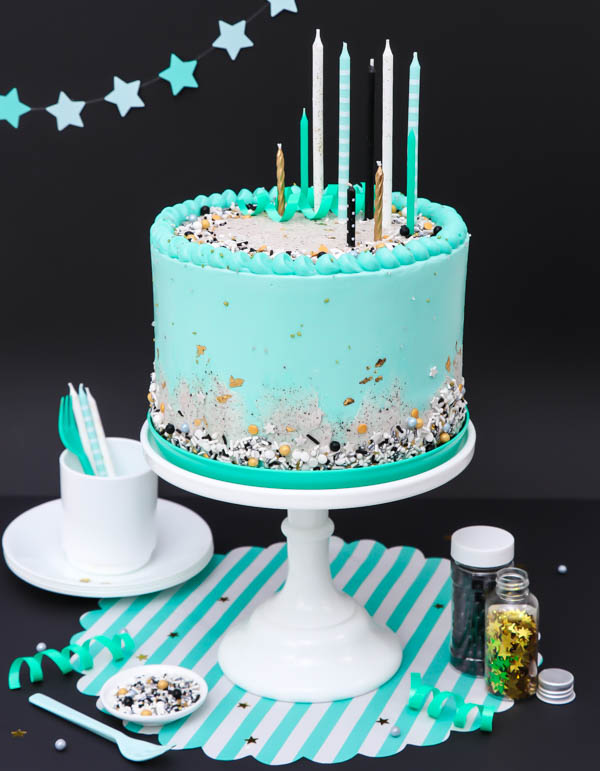 Specifically my Oreo cupcakes from my book, Cupcakery. (psst. affiliate link!) Now one might say this is a good problem as the recipe is obviously a keeper. But others (me) might say I've made those silly cupcakes so many times I might explode if I have to bake them again. So I do what I always do, a sugar negotiation. Which ended up an Oreo inspired cake frosted in her fav color which we refer to as mint-blue. Deal and done. This is where I should probably mention that's also my fav color (tied with light pink) as well. Which resulted in a new family favorite cake recipe. (winning all around)
But before we get to the recipe I can't resist sharing a little about the birthday girl's quirky personality. We like to say she is a perfect combination of her dad and I. The other kids tend to lean to one side or the other but not her, she prefers to stay right in the middle with my doses of reality, punny sense of humor, and her dads quirky and carefree personality.
While walking into a store I notice her purse on her shoulder and I say "Kiddo, I'm super proud of your for always saving your money. Most kids can't save money for even a few days." She's been hoarding birthday money for multiple birthdays now. She replies, "Well yea mom, what am I gonna spend it on junk that I won't care about in two days or candy that will give me diabetes!" This is totally me. I practically laughed all the way through the store then once we get to the end of the store there is a huge aisle of bright candy and after a moment she looks at me in all seriousness and says, "You know what, diabetes doesn't really sound all that bad." Now that, that is her father.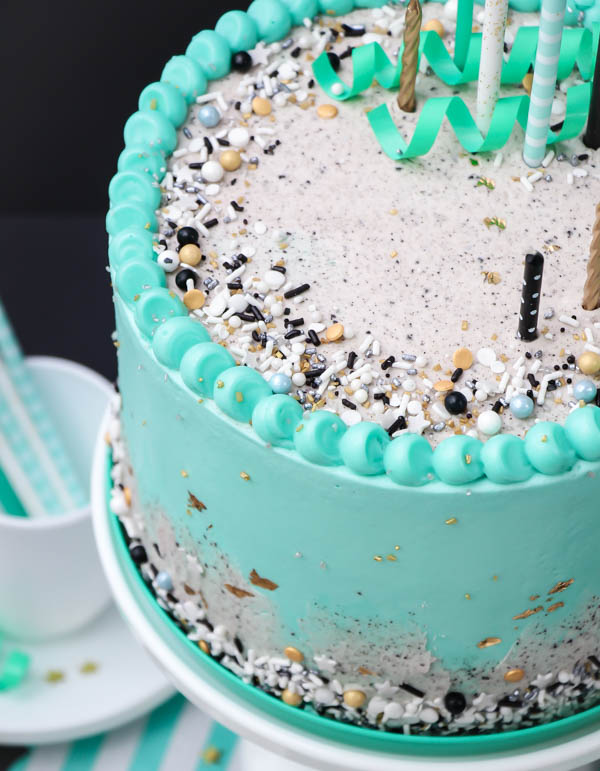 I'm telling you. This kid has me face palming more then I would like to admit. But I'll spare you more stories and get right to the cake recipe. I wish so much I had a pic of the inside of the cake, your gonna have to trust me on this one! I used my favorite black cocoa powder (psst affiliate link!) to alter my favorite chocolate cake recipe to really mimic the flavor of an Oreo cookie. Then I filled the cake with a cookies & cream buttercream and frosted the outside in a vanilla swiss meringue buttercream colored "mint-blue". Then to bring the cookies and cream to the outside I did a thin layer of cookies and cream on the top and on the bottom rim. I decorated the cake with these sprinkles (I added a few stars and gold round quins), some fun candles, a little edible gold leaf(psst! affiliate link), and ribbon. The cake together so well.
The kiddo was so thrilled – mission accomplished. Now the real question is what will she request next year?!?! I'm putting a safe bet on something Oreo filled.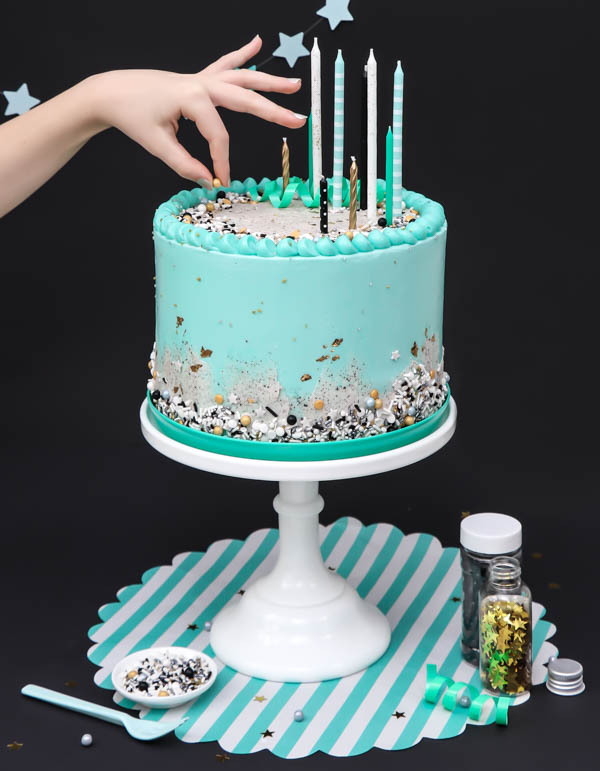 OREO CAKE
2 cups sugar
1-3/4 cups all purpose flour
1/4 cup cocoa powder
1/4 cup black cocoa powder
2 teaspoons baking powder
1 tsp. salt
2 large eggs
1 cup milk
1/2 cup vegetable oil
2 teaspoons vanilla extract
COOKIES & CREAM BUTTERCREAM FILLING
1 cup unsalted butter
1 teaspoon vanilla
4 cups powdered sugar
3-4 tablespoons milk or heavy cream
3 tablespoons crush Oreo cookie
VANILLA SWISS MERINGUE BUTTERCREAM
9 large egg whites at room temp
2 cups granulated sugar
4 sticks unsalted butter softened but still cool and cut into small chunks
1 tbsp good quality vanilla
1/4 tsp salt
OREO CAKE
Step 1. In a large mixing bowl, or the bowl of an electric mixer, mix together sugar, flour, cocoa, baking powder, baking soda, and salt until fully combined.
Step 2: Add in eggs, oil, and vanilla extract and mix until combined. Pour in milk and whip on high for 2 minutes. Pour into 2 8in (or three six inch) greased + floured baking pans. For an even easier cake removal add a parchment paper circle lining to the bottom of the cake pan.
Step 3. Bake at 350 for 25-30 minutes or until toothpick comes out clean. Let cool 10 minute before removing from pan.
COOKIES & CREAM BUTTERCREAM FILLING
Step 1: Whip butter until smooth. Add in vanilla and whip until combined. Slowly add in powdered sugar mixing slowly between additions.
Step 2: One tablespoon at a time add in milk whipping in between each addition stopping when you have reached desired consistency. Once your buttercream is the consistency that you would like add in Oreo crumbs and give it a final whip.
NOTE: It's important to remember your using this buttercream to fill a stacked cake. I always error on a more firm icing (aka less milk) for buttercream fillings.
VANILLA SWISS MERINGUE BUTTERCREAM
Step 1: Combined the egg whites and the sugar in a metal or glass bowl of an electric mixer. Whisk together until combined. Make sure there is NO egg yolk in the egg whites. The fat content in the yolk could possibly ruin the frosting.
Step 2: You'll need to setup a water bath to now heat the egg white/sugar. Add about 1 inch of water to a small pot or saucepan that allows you to sit the mixing bowl on top of it without touching the water. Heat the water to a simmer and sit the mixing bowl on top. Continue slowly whisking the egg whites to be sure the eggs don't begin to cook. After a few moments you'll see the sugar has begun to melt making the mixture smooth. When the mixture is hot to the touch test it by putting a little between your index finger and thumb. If you can no longer feel the grit of the sugar it's done heating. Becareful! Don't let the mixture get TOO hot before testing, ouch!
Step 3: Set the bowl on the mixer, using the whisk attachment, and turn it to medium-high. Set the timer to 15 minutes and let it do it's thing! At 15 minutes check to see if the bowl is now cool and the egg whites have turned into a fluffy stiff meringue. When you pull the whisk out it should have a shiny peak of frosting standing off the top. If it's not quiet there yet turn then mixture on for another 5 minutes and check again. Sometimes mine takes up to 25 minutes before the bowl is cool and my meringue is down. You want to pay attention to the cooling part because if it's not cool it will wreck havoc on your butter in the next step. If for any reason your bowl is still not cool at 25 minutes you can pop it in the fridge to chill for a few minutes before moving on.
Step 4: Turn the mixture on medium and begin adding in the butter. Whip it on medium-high again until it has turned into smooth beautiful buttercream. Sometimes the butter can turn the frosting into a runny mess. After whipping for a few minutes if it doesn't turn back into beautiful fluffy buttercream place it in the fridge for 10-15 minutes until cool then rewhip again until it's beautiful fluffy meringue buttercream. If you would like to color your swiss meringue now is the time!
Step 5: Beat in the vanilla and salt.
Once your cakes are cool and you have both frostings complete it's time to bring it all together! Trim the "domes" off your cakes so they are nice and flat. Fill your cake with your cookies and cream buttercream. I also used it as a thin crumb coat as well. Chill the cake with just the filling and crumb coat for 15 minutes then frost the outside once more with your final vanilla swiss meringue. Decorate as you please!