Every once in awhile you know I like to shake it up around here just a bit, today is definitely one of those days as I'm sharing my first ever savory recipe! Don't worry, I will still be keeping it sweet and easy around here most of the time, but I thought it would be fun to share this recipe that I created for Krusteaz with you guys.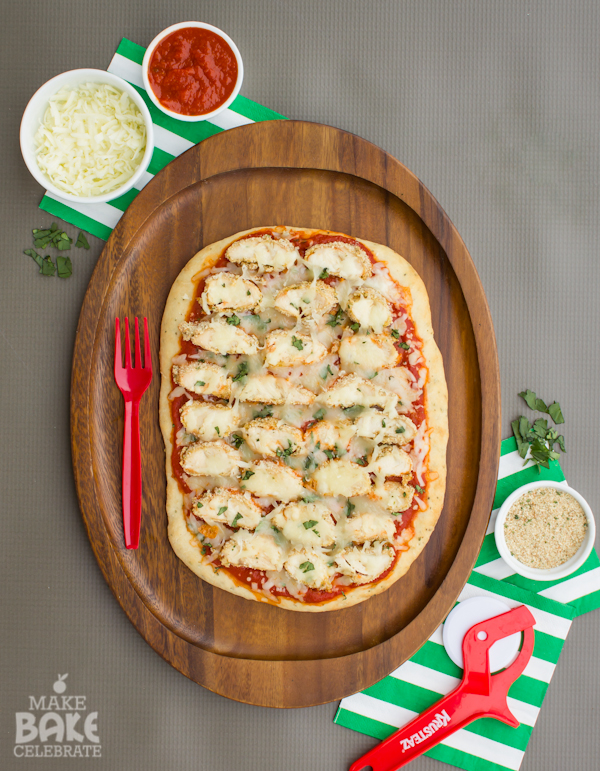 Belive it or not, we actually do eat real meals, nope it's not all cake and cookies around here. I actually have to feed these guys three times a day, so demanding right? As a baker you would think I would really enjoying cooking as well, but I really don't. And yes, baking and cooking two total different things. So I'm always on the hunt for easy, healthy, and yummy meals to make for them, are ya with me? (of course you who isn't?!) So you just have to try this recipe. It's parmesan chicken baked up on a flatbread in a pizza like fashion. It may sound complicated but it's really not.
Seriously Krusteaz flatbread has became a total staple in our house. Sometimes it's layered as creative flatbreads and sometimes it's simply cute up into bread sticks – really it's easy! You can find the recipe below or the recipe along with more info and man yore recipes over at Krusteaz, click here!
Don't you think these would be great to serve when having friends over for dinner?
What do you guys think? Would you like to see a few savory recipes mixed in everyone in awhile?!
Chicken Parmesan Flatbread With Krusteaz
Ingredients
Ingredients

1 package Krusteaz Italian Herb Flatbread Mix
1 cup very warm water (115-125°F)
1/4 cup vegetable oil
1 pound small boneless skinless chicken strips
2 large eggs, beaten
1 cup Italian bread crumbs
1 1/2 cup marinara sauce
1 cup shredded mozzarella cheese
Parsley to sprinkle

Instructions

Preheat oven to 475°F.
Prepare Italian Flatbread Mix as directed on package. Split the prepared dough in two and flatten out on two greased baking sheets. Bake for 10 minutes. Set aside.
Lower oven to 350°F. Place a wire metal baking rack on top of a baking sheet.
Roll each chicken strip in egg then bread crumbs, place on top of baking rack. Once all chicken is covered bake at 350°F for about 20-25 minutes or until chicken is done.
Once chicken is done slice into thin pieces and set aside.
Cover both flatbreads with marinara sauce then layer on chicken, cheese, and parsley. Bake for an additional 10 minutes.
http://makebakecelebrate.com/chicken-parmesan-flatbread-with-krusteaz/