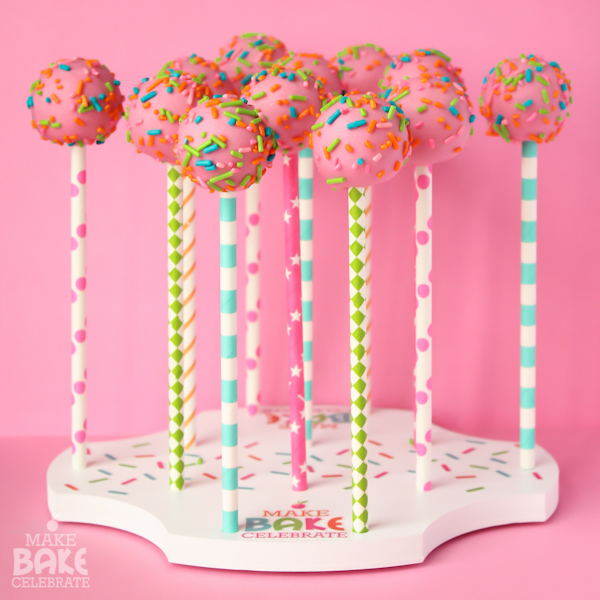 Today I'm kicking off the week here at MBC with a fun product review from our newest sweet sponsor, Cake Pop Stand Co! Cake Pop Stand Co is a company that produces specialty cake pop stands in a wide variety of shapes, designs, hole count, and decor. You can pick from an option available in the shop or work with them to create something totally unique to your needs. Over the next few months we're going to be pairing up to share some sweet treats with you guys and to start Janine at Cake Pop Stand Co thought it would be fun to make a custom cake pop stand for Make Bake Celebrate. We were a little busy on leave so I simply picked a color, hole size, sent her the MBC logo, and left the rest up to her. Next thing I know this adorable little stand was waiting in the mail box along with a coordinating pack of their paper straws!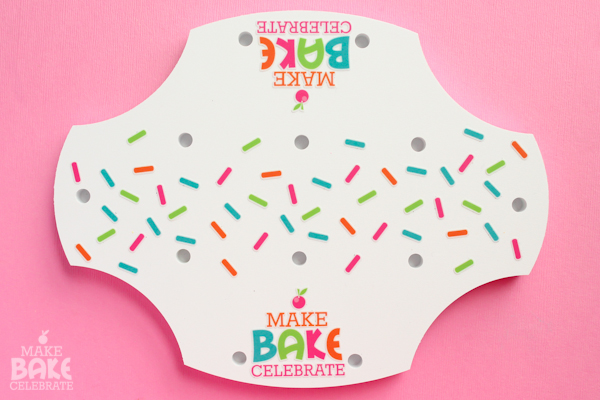 Is it not the cutest? The sprinkles, eek! Clearly she gets me! Such a fun and cute design, I really couldn't wait to share it with you guys! I've been wanting a stand with straw holes for awhile now. I always seem to forget about it until after I've started a project and have to figure out a way to prop them up, think rice and styrofoam everywhere, it's not a pretty site!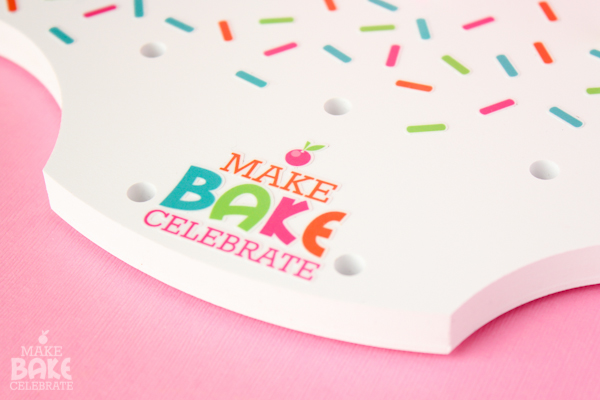 Of course I just had to try out my new stand right away! You know that Cake Pop 101 post you guys have been asking for? Getting my new stand gave me just the push I needed to finally conquer Cake Pop 101! It will be making it's appearance here tomorrow. I loved finally having a nice straw stand that I could use to produce and display my straw embellished treats! The straws paired perfectly with the stand and made the whole process so much easier.
One thing I noticed about the stand right away is that the holes are offset, which I really liked when it came to displaying. It gives a chance to show off more then just the front row! I really felt like that was a great feature and even helped when dipping by giving each pop a little more space to work with. Overall I loved working with the stand and I can't wait to get more sizes! I'm totally dying over these single stands in their shop – oh the possibilities!
While were on the subject of straws, did you know Cake Pop Stand Co. now carries dozen of paper straws? The fun thing about their shop is they carry paper straw mixes, as well as an option to create your own. A few of my favorites are "Citrus", "Frozen", "Jungle", "Strawberry Shortcake", and let's not forget "Celebrate" that was created just for MBC! MBC readers can purchase their own "Celebrate" or "Hot To Trot" (shown below) packs for just $3.00 a pack using the code CELEBRATESTRAWS at checkout through the end of the year!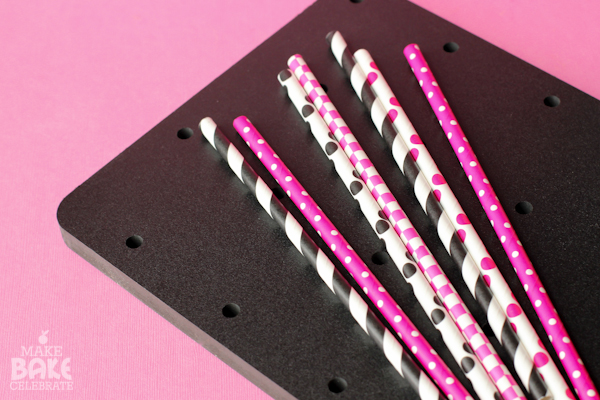 Would you like to have one as well?! Because they are so sweet, Cake Pop Stand Co. also sent me along one of their black 24 straw hole stands along with a pack of coordinating straws "Hot To Trot" to give to one of you! I seriously love this one just as much!
You can enter by using the Rafflecopter below, the more entries the better your chances are! Open to US entries only please. Giveaway will end Sunday, August 3rd, 2014 at 11:59PM. Winner will be chosen at random the morning of Monday August 4th, 2014 and notified via email.
After entering don't forget to head on over and check out all the fun items over at Cake Pop Stand Co, by clicking the link here or any time you visit by clicking the easy link to the right under "Sweet Sponsors". I'll see you back here tomorrow with Cake Pop 101!