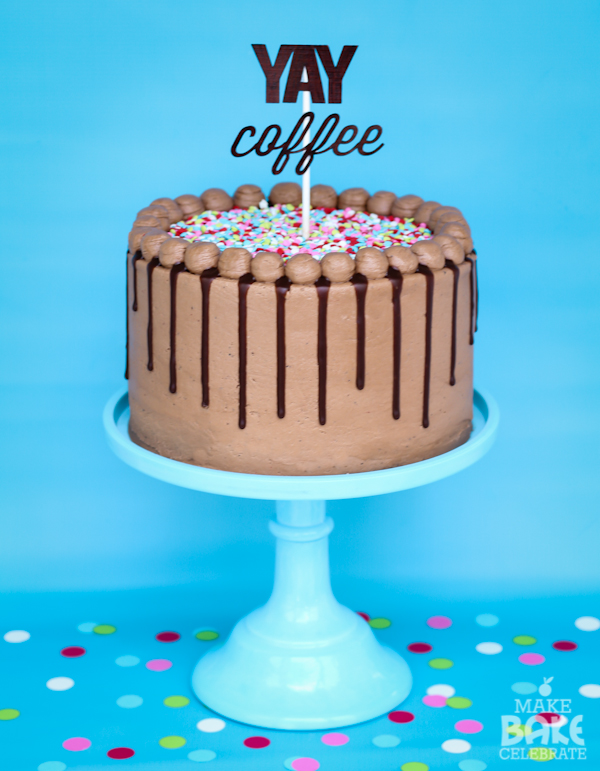 Today I have good news, a little secret, and a cake to share! The good news is…I recently found out after moving to Europe that I do not have an addiction to coffee. That's right! I actually have an addiction to cream and sugar. Ha! Seriously though, ordering coffee here is like can I have a cup of coffee and like 24 creams and sugars please? They like their coffee dark, strong, and tiny. Which is exactly the opposite of my coffee dreams guys.
The secret….well if I tell you promise not to share? Because if word gets around my hopes of joining the cool kids club will be forever gone. But ok here goes…I only recently started drinking coffee. I know, gasp, what is my problem? I never understood while people were so hooked on coffee and the thought of it grossed me out. But then one day a few years ago my coffee loving husband was gifted a Kuerig. Soon after he taught me his wise coffee and creamer ways. And I've pretty much been hooked ever since. The term "coffee IV" makes more and more sense everyday. The more birthdays I have, the older the kids get, the fuller our calendar, and the more I seem to want, no need it. It's obviously grown on me because I've since became a huge fan of coffee flavored – well anything! I knew my husband was a bad influence on me!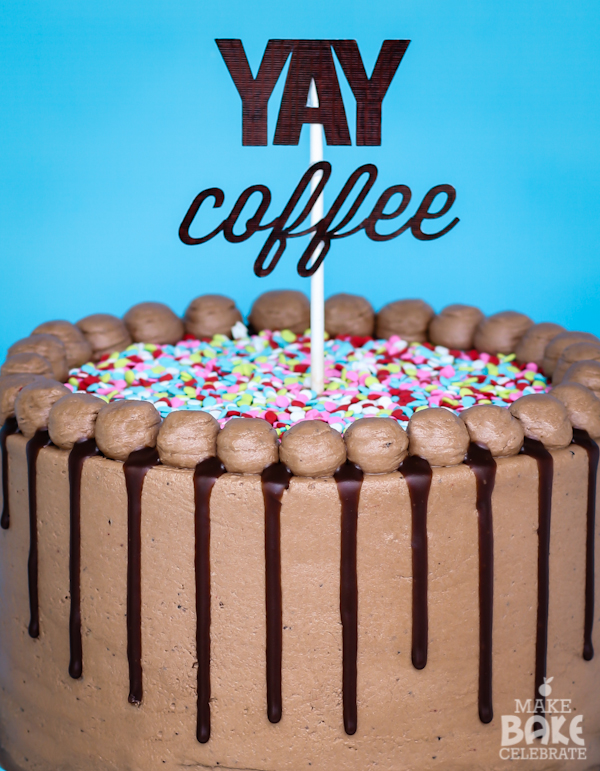 Oh yea…speaking of the hubs. He celebrated another birthday this week! Yay for birthdays! Boo for birthdays when your across the world. Just when I was planning on amazon priming him a gift and calling it good I got the phone call he was coming home early just in time for his birthday….yay! Unless you're a baker. Crap. What was I going to bake him…and right this minute? He had requested a coffee cake and I set to work – quickly!
I knew this had to be fast and yummy as always so I reached for my own cook book! I simply altered one of my favorite recipes Mocha Swirl Cupcakes, altering a cake mix and making super simple cafe mocha frosting. When it came to decorating I grabbed some of these Confetti Lollipop Quinn sprinkles from Sweets and Treats Boutique and tossed them on. But wait! I was missing something, and a few drips of simple ganache did the trick. Yay!
I allowed one of the kiddos to test taste and I couldn't belive it when she said "Mom, you're magical. You made cake taste like coffee and chocolate!" I chose to ignore the fact that my seven year old knew and liked the flavor off coffee and instead focus on the magical part. Wahoo – that's a win! If your a coffee lover too, then this cake with is creamy mocha buttercream and chocolate ganache filling will win you over for sure!
Here's what you're going to need:
CHOCOLATE GANACHE
3/4 cup melting chocolate chopped into tiny pieces
3/4 cup coffee creamer
1/4 cup unsalted butter
MOCHA CAKE
2 boxes chocolate fudge cake mix
8 large eggs
1 cup sour cream
2 cup + 6 Tbsp. coffee
(slightly cooled)
2 Tbsp. coffee extract
1/2 cup melted butter
(slightly cooled)
CAFE MOCHA BUTTERCREAM
1 cup unsalted butter
1 cup shortening
2 Tbsp. coffee extract
3 Tbsp. cocoa powder
8 cups powdered sugar
5–7 Tbsp. creamer
2 Tbsp. finely ground coffee (optional)
Step 1: Preheat oven to 350 degrees. Grease 3 8in cake pans and set aside.
Step 2: Before baking the cake you will want to prepare the chocolate ganache. This is because ganache needs plenty of time to cool and thicken before use. Place chocolate pieces in a large heatproof bowl. In a small sauce pan bring creamer and butter to a boil. Once at a boil turn to low and cook for one more minute. Be sure to stir frequently not to burn the creamer. Pour hot mixture over chocolate in the heatproof bowl. Do not stir, let the hot mixture melt the chocolate for 2-4 minutes. Give the ganache a gentle stir until combined them set aside.
Step 3: In a medium mixing bowl, sift cake mix and set aside. In the bowl of a stand mixer (or large mixing bowl) using the paddle attachment, beat together eggs, sour cream, coffee, and coffee extract at low speed. Add the cake mix and beat until just combined. Beat in melted butter until just combined. Once all ingredients are incorporated, scrape the sides and bottom of the bowl and turn mixer up to medium and beat once more for 15–20 seconds. Do not overheat.
3.Divide batter between the three cake pans and bake each on middle oven rack for 25-30 minutes, or until toothpick comes out clean. Let cool in pan then gently use a knife to loosen the edges and flip out.
4. While cakes are cooling, prepare buttercream. In the bowl of a stand mixer (or large mixing bowl) using the paddle attachment, cream butter at medium speed until soft and smooth. Add shortening and coffee extract and beat until combined. Slowly add in powdered sugar and cocoa, beating slightly between each addition. Add creamer one tablespoon at a time, beating in between additions until at desired consistency. If desired add finely ground coffee grounds. Turn mixer up to medium high and beat for 1–2 minutes.
5. Once cakes have completely cooled, level the cakes by removing the dome off the tops. Stack and fill cakes by placing one cake on the cake stand/board then piping a dam around with frosting. Fill the cake top with a thin layer of frosting inside the dam, then add a thin layer of chocolate ganache. Repeat this step until all three layers are on. Finally cover the entire cake in a thin layer of frosting and let chill for 15 minutes. Frost the final layer of frosting all over the cake and decorate as desired!