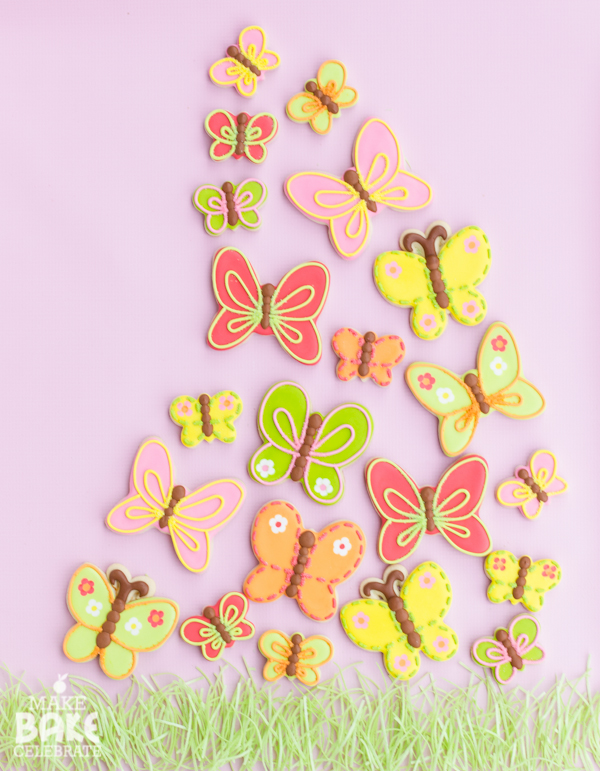 Sometimes you do crazy things for your kids, in the name of love. Like for instance, make them butterfly cookies that take you well over 18+ hours to make (I stopped counting at 18). Wait, wait, wait…don't go! I promise these pretty cookies aren't THAT hard, nor will they take you 18 hours. Unless…of course you have twins. And you thought they would be a great idea to make for both class parties AND as teacher gifts for all three kids AND helpers AND enough leftover to create something else with them. What was I thinking?
Clearly I wasn't.
The twins (M & B) celebrated their 5th birthday a few days ago…please can we not talk about how they are ALREADY five. Since we're not celebrating with a party for another month yet, I had kind of free roam when picking birthday treats. And they really weren't much help in that area. Till we came across a dress that was too small on them. A dress from a butterfly line at Gymboree that I LOVED and passed down through all three girls. Hey, let's cookie the dress I said! Clearly I wasn't thinking. Because creating like 80 butterflies like this is currently NOT in my attention span. Especially when it's two kids birthday and you're moving to a new house in the same week. Next time we stick to cupcakes!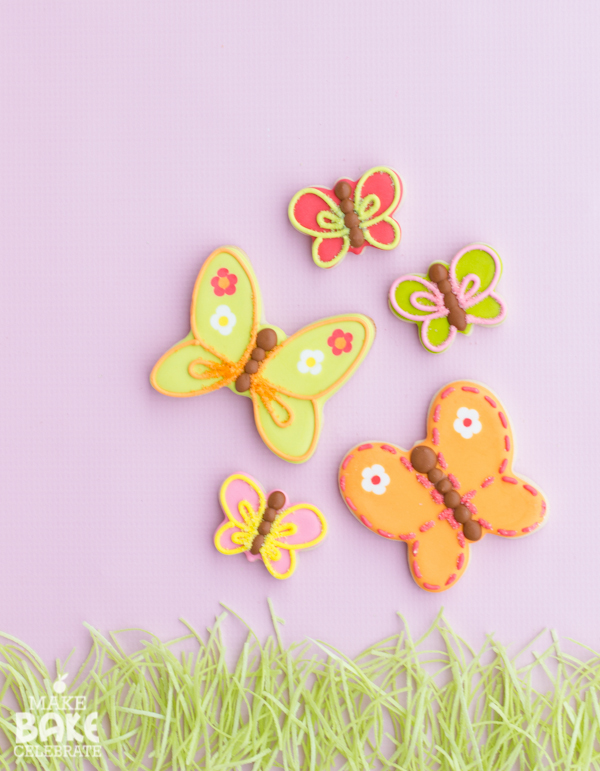 However, I am so glad I spent the time making these for my baby girls. These cookies were very sentimental to me. Their five now, such big girls headed off to Kindergarden together soon. And I know our days in butterfly covered dresses are limited. Sigh. But lets get back to the cookies alright, before I start sobbing here.
As always once you break it down into steps, these cookies are pretty easy! I'll give you a quick step by step glance below, but you can find specific details on things like how to make the cookies, how to make the royal icing, and how to fill the cookies in Rolled Cookies 101, Royal Icing 101, and Decorating Cookies 101.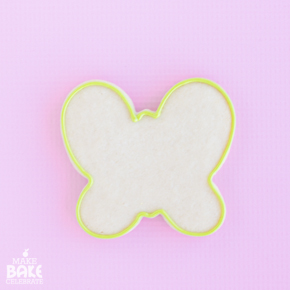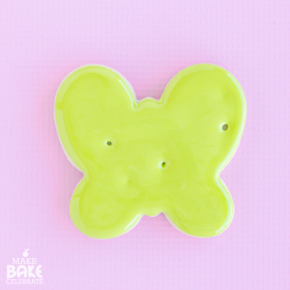 Step 1: Outline with piping icing.
Step 2: Fill with flood icing. Use tooth pick to gently pull the icing gaps together.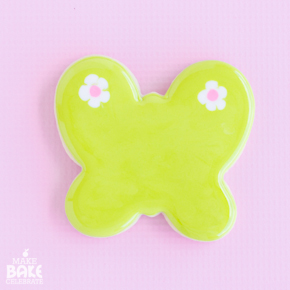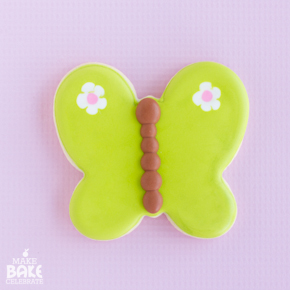 Step 3: Immediately pipe five small dots of an additional flood icing into the wet icing. You can use the tooth pick to drag the shape just a big. Then pipe another dot in the center to create a flower. Quickly repeat on the other side, and on the lower wings if you would like.
Step 4: Once the top of the icing has crusted over, pipe a large brown dot for the "head" let it crust over for a few minutes and then pipe a slightly smaller dot just below. Continue to repeat this step until you're body is complete. You will need to make sure each dot is slightly crusted over before piping the next one or they will run together. To help move this process along I lined the cookies up in a row and piped one on each cookie then started over again with the second row.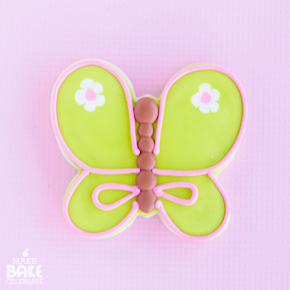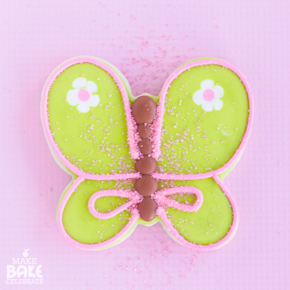 Step 5: Pipe wing details on with a piping frosting.
Step 6: Immediately cover with sanding sugar if you would like. Allow cookies to dry and brush off excess sanding sugar with a food safe paint brush.
I finished this set by adding some edible Easter grass to the platter, the perfect touch!
Mixing this color combo was actually pretty easy, below are the color combos I used:
Dark Coral – Lemon Yellow, Ivory, Rose 1:1:2
Dark Green – Ivory, Lemon Yellow, Electric Green 1:1:2
Light Pink – Ivory & Rose 1:2 (very small amount)
Light Green – Lemon Yellow & Electric Green 1:2 (very small amount)
Brown
Orange
Lemon Yellow
Want to check out a few more spring treats? If you love these butterflies you will love these!