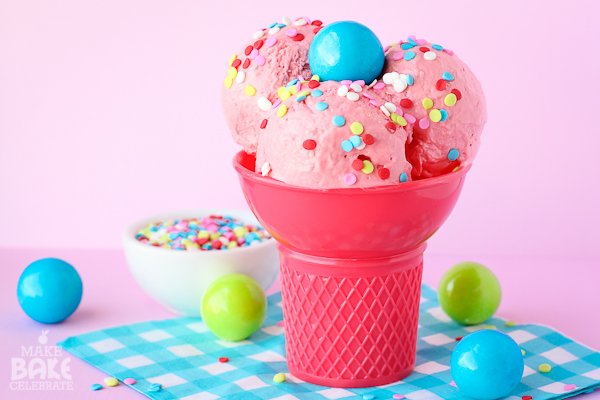 My kids have always been bubble gum crazy, everything they see bubble gum they want. But they really aren't old enough to handle actual gum just yet. Three little girls, long hair, bubble gum… you know where I'm going with this. My oldest asks almost daily when she can start chewing gum my answer is always three years added to her current age, because I'm nice like that. So every once in awhile I whip up a bubble gum treat just for them. I've always put bubble gum in the "kid flavor" category. It just not a flavor you can eat with anything, sometimes I find it a little weird even as I feel like I'm swallowing gum. Up until now that is, because this ice cream is delicious! I've had several adult taste testers try this out this week and each one one was really surprised at just how much they liked it! The Cool Whip and bubble gum really do make a great combo from kids from 1-99!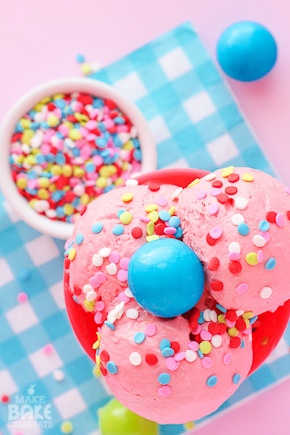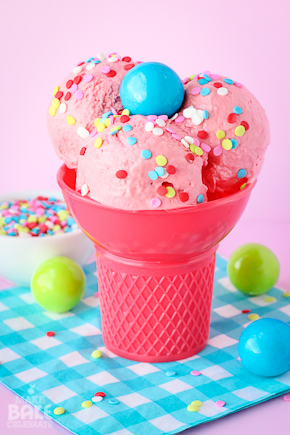 This is another cool whip and pudding recipe that comes together in a flash then freezes overnight – no machine needed!
Here's what you're going to need:
1 8oz.Tub Of Cool Whip
2 3.4oz Vanilla Puddings
2 Cups Milk
1-2 Bubble Gum Candy Duncan Hines Frosting Creations Flavor Packet (I used 1.5 packets)
Pink Gel Food Coloring (Optional)
Step 1: In a large mixing bowl, or the bowl of an electric mixer beat together pudding and milk. Place in fridge for 5 minutes to firm.
Step 2: Once pudding has firmed up in fridge add entire tub of cool whip and 1-2 Bubble Gum Candy Frosting Creations Packets, I liked the flavor at 1.5 packets but you can use just one or all of the second depending on how strong you like the bubble gum flavor. Beat until fully combined. If desired add in a little bit of pink food coloring (gel works best) to help tint the ice cream a brighter pink.
Step 3:Pour ice cream into 1.5L plastic container with lid and place in freezer. Let ice cream sit for at least 8 hours, overnight is best.
And that's it! SO easy!
If you haven't had a time to check out this weeks other ice cream flavors be sure to stop by these posts and get the scoop!
Chocolate Cookie Dough Ice Cream