This summer has been one for the books, and not in the way I had been hoping. I had some really fun plans this summer, especially with the launch of my new book Cupcakery, but things took a turn before they even got started. In May we found out we would be expecting our fourth child and I pretty much spent ever day after battling the worst of morning all day sickness. I spent far too many days this summer grasping a package of saltines and trying to avoid any smell possible, ah motherhood. Thankfully now past the 20 week mark the worst of it has subsided and I have almost returned to eating normal foods and activities, being careful not to over do it. And of course, the heat here in the desert has not helped this summer. We've now pasted the 100 day mark for temperatures consecutively over 90 degrees. I would be fibbing I didn't admit many, many times this summer I wished the Army would send us off on random orders to a cooler place.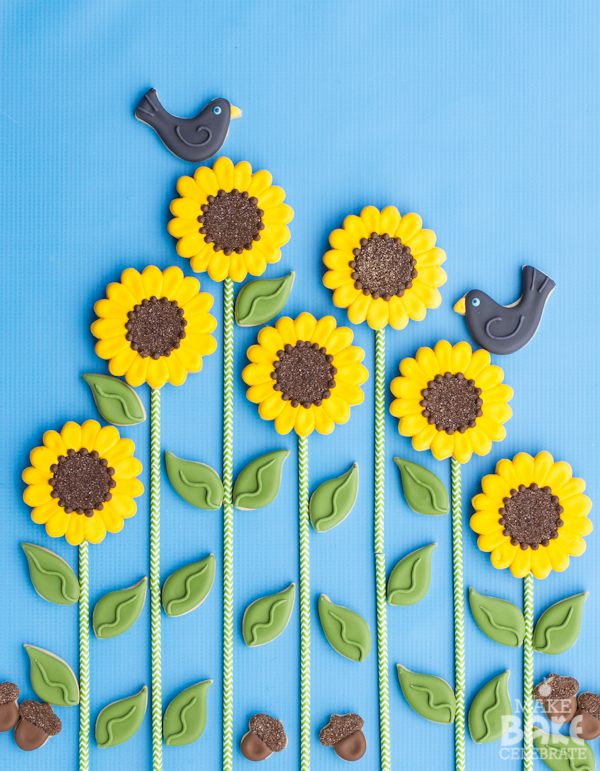 Alas, fall is finally approaching (thank you Jesus!). Even if we don't have falling leaves and bonfire perfect weather – it's coming. We do, however, have sunflowers. Totally on it's own in the middle of no where. Recently a beautiful patch of sunflowers sprung up on the side of our desert road. Each time we head out we get treated to a beautiful patch of natural sunflowers with a background of mountain and the biggest brightest blue sky you can imagine. Our girls love the random patch of sunflowers and it's such a great reminder to find the beauty right where you are. No matter what season of life you're in (or strange place) there's always something incredible to enjoy.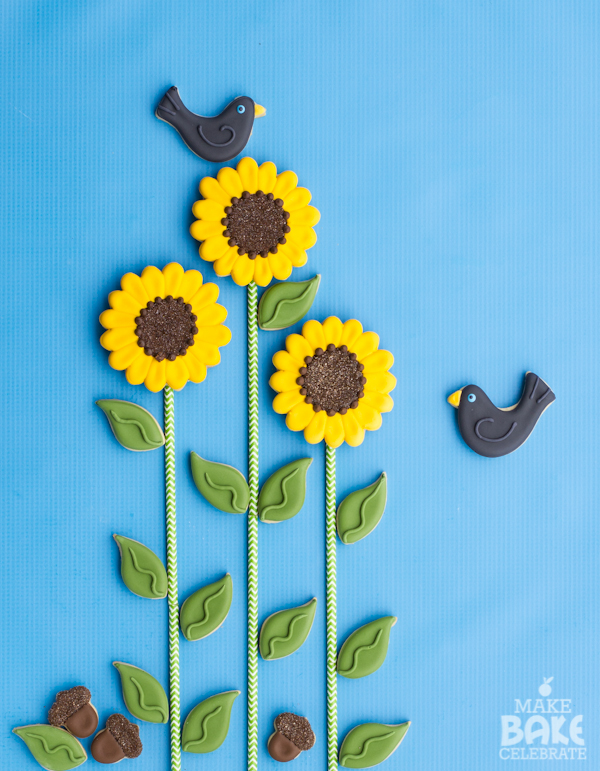 Now that I am able to get back into the kitchen and the kids are back in school I wanted to make something sweet to celebrate the new season, and I knew it had to be sunflowers to remind me of those beautiful sunflowers nature treated us to. For these sunflowers I wanted something a little a bit more "fall" then vanilla, so I took LilaLoa's Vanilla 2.0 recipe and mixed it up just a bit to create these brown sugar maple cookies. This recipe turned out wonderful and as a huge perk my kitchen smelled like maple for 2 days! A big thanks to Georgeanne for letting me share it below! (original here)
BROWN SUGAR MAPLE COOKIES
1 cup slightly softened butter
1 cup brown sugar (ran through a blender to make fine)
1/2 cup granulated white sugar
2 extra large eggs
1 tablespoon maple extract
3/4 teaspoon salt
1/4 teaspoon baking powder
4 (or 4 1/2 cups) flour
Step 1. Beat together butter and brown sugars. Add eggs and maple and beat until combined.
Step 2. Add in salt and baking powder and beat until combined.
Step 3. Start by adding 3 cups of flour, mix until combined. Slowly add more flour until dough is no longer sticky and holds together. If you're going to chill the cookie dough and use later you can stop now. If you're going to roll right away it's best to add 1/2 cup more to bring it to a thicker consistency for immediate rolling.
Step 4. Roll and cut cookies, place on parchment paper lined cookie tray and freeze for 2 minutes. Bake at 350 for 7-12 minutes depending on size and thickness of cookies. For more info on my rolling and baking process check out Rolled Cookies 101 here.
Once you're cookies are done cooling it's time to decorate! I found sunflowers to be one of the more tricky flowers to ice, those long little abundant petals are hard to recreate with icing. Here's a quick step by step of how I created my sunflowers using a cutter from Wilton's large 101 cutter set, brown piping & flooding icing, yellow piping and flooding icing, brown sanding sugar, a circle cutter, and a food marker.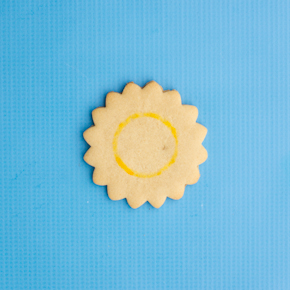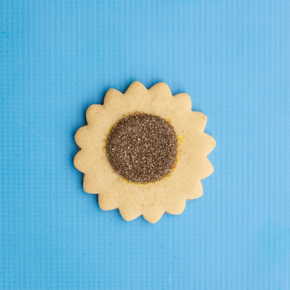 Step 1. Use a circle cutter and a food marker to draw a circle in the center of the cookie. This step is optional but for those of use who aren't the greatest with nice circles this helps a lot.
Step 2. Outline the circle with brown piping icing and then flood with brown flooding icing. Then gently sprinkle brown sanding sugar over the entire circle and let sit for about an hour. This is a great time to ice any other cookies like leaves and birds.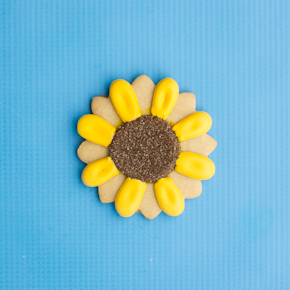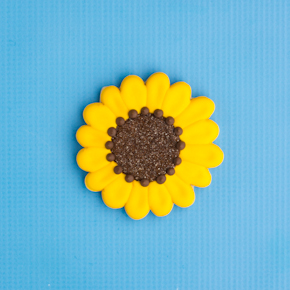 Step 3. Once centers have firmed gently shake off excess sanding sugar. Using yellow outline icing pipe every other petal on the sunflower and then fill it with yellow flood icing. Do this for all your sunflowers.
Step 4: Once the yellow petals have firmed a bit use your yellow outline icing to outline the outside of the left over petals, just the tips of them, no need to go all the way back to the center. Then fill the leftover petals with yellow flood icing.
Step 5: Once the yellow hard firmed, finish cookies with small dot of brown around the center using your brown piping icing.
Of course you can add simple cookies to go with like I did. I used little acorns, leafs and little birds. To create your own patch, once your cookies are dry you can flip them over and use extra icing to "glue" your cookies to straws. My green chevron straws came from here.
Happy fall ya'all!