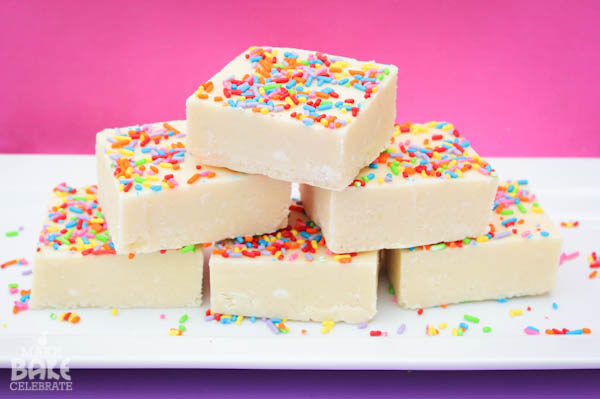 Last week I was minding my own business scrolling through pintrest when I saw this pin labeled cake batter fudge. Whoa. Wait. Stop right there…does this  say cake batter fudge? Recently I've become a fan of fudge ever since the icing and chocolate chips method was introduced to me…and recently I've been having fun with batter inspired dessert, because hey my kids would rather just lick the spoon and maybe if there wasn't the whole salmonella thing I would too ;). I'm not gonna lie…I wanted to get up that moment and make some until I realized I was out of white chocolate chips…again. Why oh why can't I have a never ending stash of baking supplies. So unfortunately I had to pin it to my board and go on with life without cake batter fudge.
Turns out there are several versions of this fudge, and after a few google searches I decided to try a version by Sally's Baking Addiction. A few days and a trip to the store later I finally got the chance to make it. Most people bring things like watermelon, pasta, fruit salad or pie to a labor day cook out…but not me I brought cake batter fudge. My neighbors never complain, honestly if I would have brought santa cookies they probably wouldn't have said much. They know I'm always working on something…and never mind trying it out.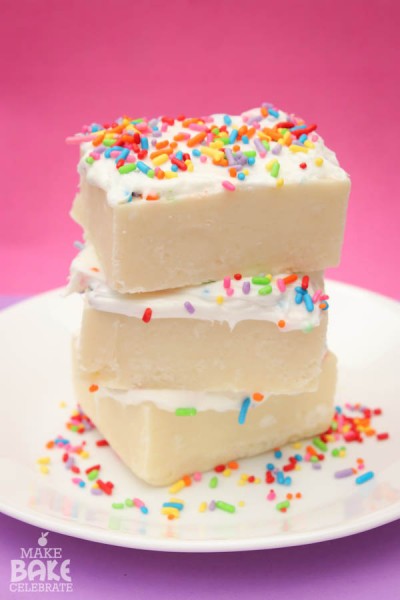 So now I should probably tell you if it was any good huh. Well it was incredibly yummy, this is brilliant. It's yummy and soft and tastes exactly like licking the batter minus the spoon and salmonella. Less dishes + less risk of death = good thing. Seriously you may want to go make some, asap. Like pack up the kids and go to the store to get white chocolate chips good. Oh and I should probably tell you…it was super easy. I know I say that a lot but really easy…if you can work a microwave your good.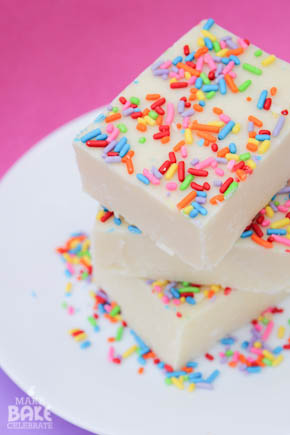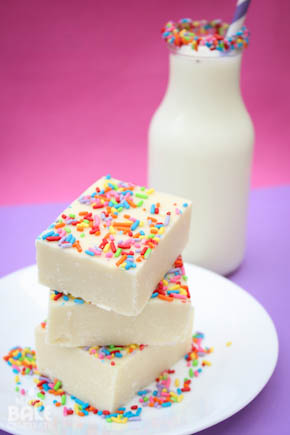 The first thing everybody said was birthday cake fudge, so that's what I'm calling it now. Seriously this would be so much fun to take to a friend on their birthday! But then I though whoa…let's try some icing. Instead of making entire batch of buttercream I grabbed canned icing from a pantry and iced the second half. Honestly, I liked it either way…icing was a fun touch but it was really good all by it's self. The icing did make it super sweet…shhh don't tell you dentist.
Here's what your going to need:
2 cups and 2 TBS white or yellow cake mix
2 cups powdered sugar
1 stick butter cut into four pieces
1/4 cup milk
2/3 cup white chocolate chips
Sprinkles (optional)
1 can of icing (optional)
Step 1: line a 8×8 baking dish with foil, very lightly grease foil.
Step 2: In a large microwave safe bowl mix together cake mix and powdered sugar until completely blended. Add in milk and butter.
Step 3: Microwave for 2 minutes. You butter should be almost completely melted, if not stick it in for a bit more.
Step 4: Stir together until blended, it will be a thick consistency. Then fold in your white chocolate chips. The hot batter will melt them as you stir. Be sure to keep stirring and folding until you can't see any more chocolate chips.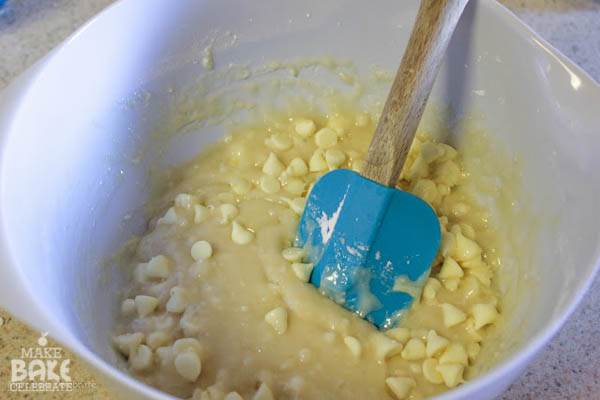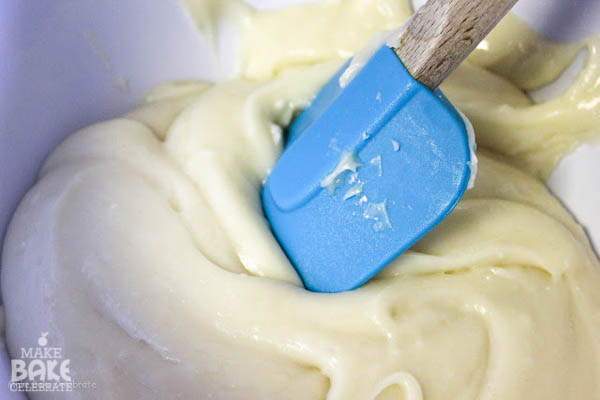 Step 5: Pour (more like drop) you fudge batter in you foiled lined dish, smooth out with spatula. I like to use a piece of wax paper and icing smoother to get it nice and smooth and level.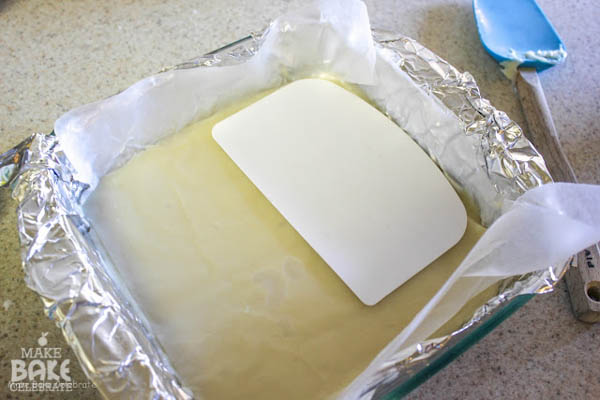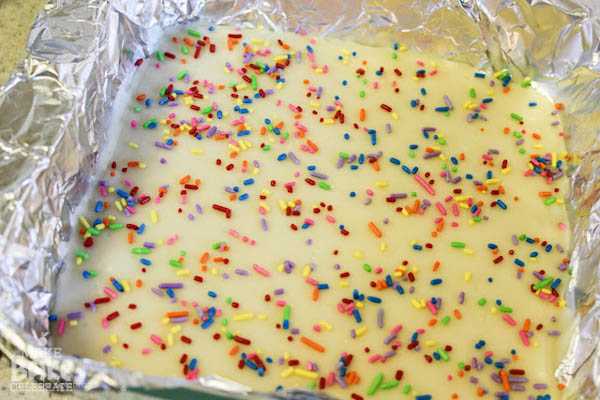 Step 6: Add sprinkles on top. If your icing these you can skip these steps and sprinkle after.
Step 7: Let chill for up 30-60 minutes. Then lift foil out pull back, add icing and sprinkles if doing so, and cut into 1inch squares.
**The chill time will depend on how stiff you like your fudge. I actually made two batched of this and left one in for about 40 minute and one for over an hour. The first batch was soft and yet still cut and servable…kinda melt in your mouth like. The second was more stiff and traditional fudge like.**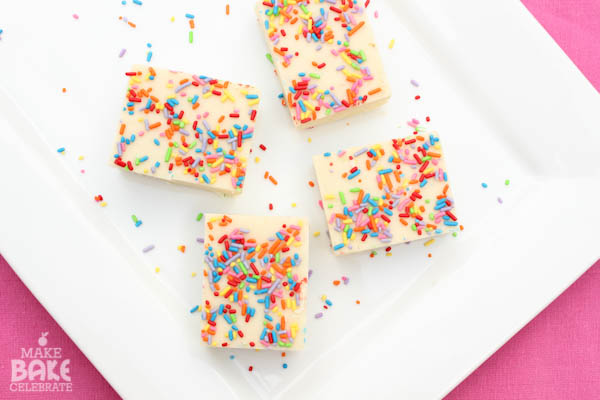 What's that you want a bite? Go ahead. Lick the screen. I won't tell.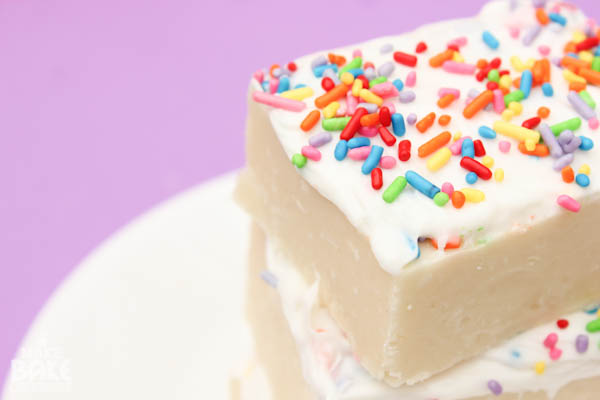 Now my head if swirling with other birthday cake ideas. Why can't I have an endless baking supply pantry and an extra 24 hours in a day? BTW incase your wondering that's what I want for my birthday…just saying. :)
Oh, and if birthday cake fudge isn't your thing…why not try some strawberry shortcake fudge?
Ingredients
2 cups and 2 TBS white or yellow cake mix
2 cups powdered sugar
1 stick butter cut into four pieces
1/4 cup milk
2/3 cup white chocolate chips
Sprinkles (optional)
1 can of icing (optional)
Instructions
line a 8x8 baking dish with foil, very lightly grease foil.
In a large microwave safe bowl mix together cake mix and powdered sugar until completely blended. Add in milk and butter.
Microwave for 2 minutes. You butter should be almost completely melted, if not stick it in for a bit more.
Stir together until blended, it will be a thick consistency. Then fold in your white chocolate chips. The hot batter will melt them as you stir. Be sure to keep stirring and folding until you can't see any more chocolate chips.
Pour (more like drop) you fudge batter in you foiled lined dish, smooth out with spatula. I like to use a piece of wax paper and icing smoother to get it nice and smooth and level.
Add sprinkles on top. If your icing these you can skip these steps and sprinkle after.
Let chill for up 30-60 minutes. Then lift foil out pull back, add icing and sprinkles if doing so, and cut into 1inch squares.
**The chill time will depend on how stiff you like your fudge. I actually made two batched of this and left one in for about 40 minute and one for over an hour. The first batch was soft and yet still cut and servable…kinda melt in your mouth like. The second was more stiff and traditional fudge like.**
http://makebakecelebrate.com/birthday-cake-fudge/