Guys, I really want to tell you I'm so excited about today's post buuuuut I can't and here's why. Lately I've been a total podcast junkie. While I'm baking, photographing, editing…I'm always listening to a podcast. From business related podcasts to home organizing – podcast are my jam. Each day while I listen I notice something in common. Almost every single podcasts starts with the host saying, I am SO EXCITED to bring you…blah ball blah. And then I realized…OH MY GOSH I DO THE SAME THING! I too have a habit of starting posts with I AM SO EXCITED to share blah blah blah. While it really comes off as a super generic intro I have to tell you guys, most content creators really are just that pumped about bringing you that fresh new content. It's like the cute new baby in the house who's everybody's favorite and you just can't help but love it. Not that I have kiddo favorites or anything. So instead today I'm going to tell you I'm super crazy pumped…no I'm BANANAS about bringing you guys this fresh content. Which happens to be a Banana Sugar Cookie Tutorial!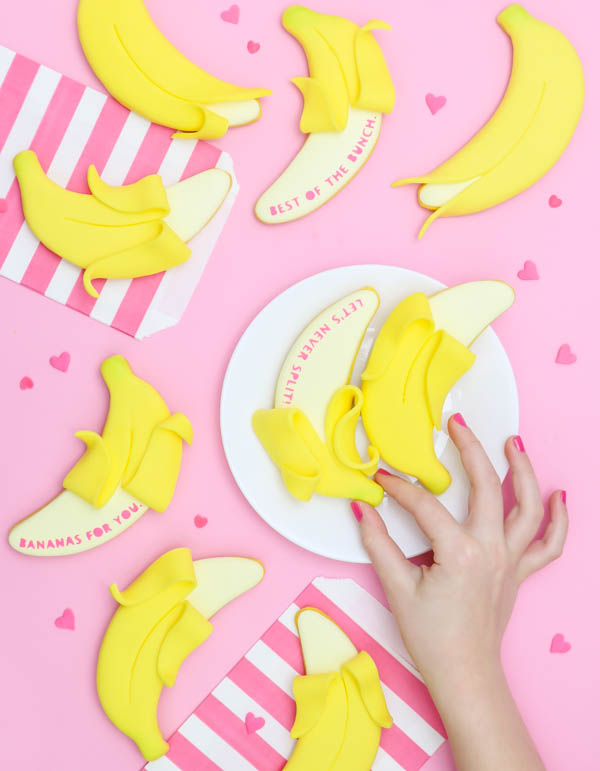 Why am I so pumped? Well lets start with the obvious…with this combo of royal icing + fondant + cute message I just know you're going to find the post totally A-PEELING! And aside from the cuteness I am bringing a whole new concept + brand to the blog which I have not shared ever before. Today I'm going to be starting one of the many posts in which I will be highlighting a brand I totally love and use in my baking all. the. time. Silhouette! For most of you this brand doesn't need an intro because they are just that awesome. But incase you're not a fan yet Silhouette is a brand of personal cutting machines + coordinating materials. Their stuff is SO awesome. You can cut out just about anything, and I mean anything with their machine + digital design studio. Most people would not think of this as a brand used in baking + decorating but let me tell you they would be wrong! For years I have been using my beloved Silhouette portrait to create items that help decorate my sweet treats and I've always wanted to bring these ideas to the blog, it's finally happening! I've used my Portrait machine to make cake toppers, cupcake toppers, cake banners, cupcake wrappers, confetti, cookie stencils and SO much more. I've even used their awesomeness to help me make treat boxes and tags to package the treats. Seriously guys these posts are WAY over due.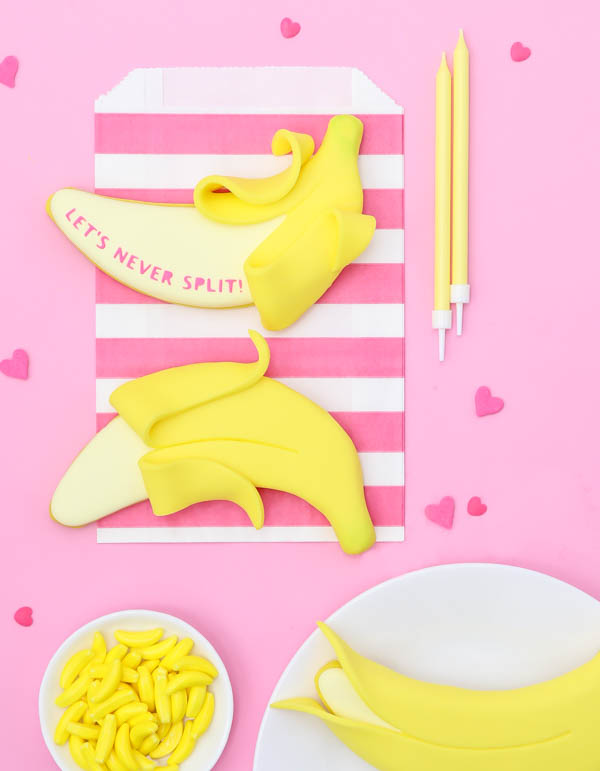 Recently I've really been giving these products a new test by using their Stencil Material to create text on my cookies. When Silhouette sent me more stenciling material I was so excited to make more! I've been going through a lot of stencil material! I love the clean well polished look you get with a stencil and since Im making them right at home…I can make it ANY WAY I WANT IT! For these cookies though I took it one step further to show you guys just how much I really love these items. What would you do if I told you these banana cookies were hand cut. Yep, as in no cookie cutter…at all. Just me and a stencil I made using my Silhouette portrait.
I knew I wanted to make banana cookies this year for Valentine's Day, because let's face it the funny content is ripe for the taking. But wouldn't you know no matter how I tried I couldn't make a banana in the shape I wanted with any of my cookie cutters. Even if I did find the cutter I needed I knew I would need the peel to be slightly larger then the cookie. That's when my Silhouette Portrait + stencil material came into play YAY! I simply searched the silhouette store for a banana file, where I found this one for .99. I sized the banana to the exact size I wanted it then cut it out using my Portrait. Once I was done with the cookie stencil I then made another banana just slightly larger to cut the fondant with. And then some sayings to stencil on to the banana. This process is so easy to do in the design studio.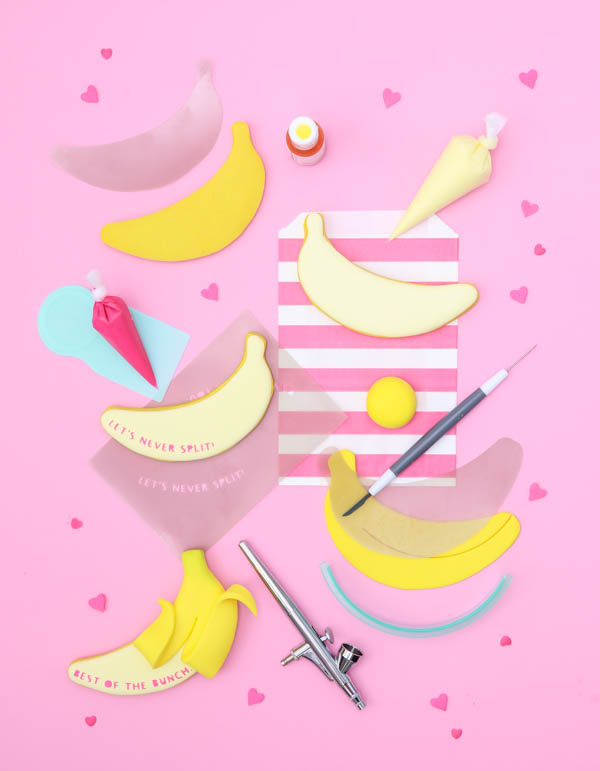 Want to get bananas with some cookies? Let's do this!
Here's what you're going to need:
banana stencils cut with stencil material using a Silhouette cutting machine
rolled sugar cookie dough + yellow coloring (I added banana extract to mine!)
sharp knife
parchment paper
light yellow 20 second icing
pink stiff icing (slightly more stiff then outline icing)
yellow fondant
green airbrush (optional)
Step 1: Using a sheet of parchment paper cut no bigger then your pan, roll out your yellow cookie dough. Place the entire rolled sheet of dough on your baking pan and into the freezer. If you have more dough then your cookie sheet cut off the extra and roll that out on a second parchment sheet. You want your dough to be pretty firm but not frozen solid to where you can't glide a knife through. When your dough is hard enough for you to lay your hand on and not leave and indent you are good to go.
Step 2. Use your small banana stencil to lay on top of the dough and cut around it as smooth as possible using a sharp knife. You can cut your bananas out right next to each other. After all the bananas have been cut peel away the outside dough and space out your bananas 1.5 – 2 inches apart. You may need a second baking sheet. If you have any rough edges you can take a clean finger and gently smooth out the dough edges. You can also try flipping the banana upside down. Often the cut is smoother on the bottom side. Bake the bananas for 10-12 minutes. While your first banana are baking repeat these first two steps with any remaining dough to make more bananas.
Step 3. Once your bananas have totally cooled you can frost them with your 20 second light yellow frosting then let them dry over night.
Step 4. Use the stencils provided, a scraper tool or small spatula, and a stiff pink icing to put the fun little puns on the bananas. If you are new to the stencil game I highly recommend checking out this stencil holder, I love it! However a set of magnets below and above the stencil on a cookie tray hold everything into place really well. Use the scraper tool and scrape a small amount of icing over the lettering until smooth. Gently lift the stencil up. The words will be completely dry in about 15 minutes.
Step 5. Cut your banana peels out of rolled yellow fondant using the larger banana stencil plus knife. You will also want to cut the peel down the middle. I like to cut about 4 at a time and let the fondant sit for a few minutes so it's not quiet so soft before moving it on to the cookie. When you're ready lay the peel on the banana starting with the not split end. Gently press the fondant down around the cookie and continue to work your way up the sides. When you've got to the point you want the banana peeled back peel the fondant back and gently shape it into place. If for any reason the fondant doesn't want to stick on its own to the the cookie edges you can always use a little corn syrup + a paint brush as a little "glue".
And now you have the cutest cookies your Valentines could ever ask for, they will never wanna split with it! I can't wait to bring you guys more Stenciled treats, and soon Stenciling 101! What do you guys think about hand cutting cookies? With 1000's of designs in the Silhouette storw I'm currently dreaming of endless designs…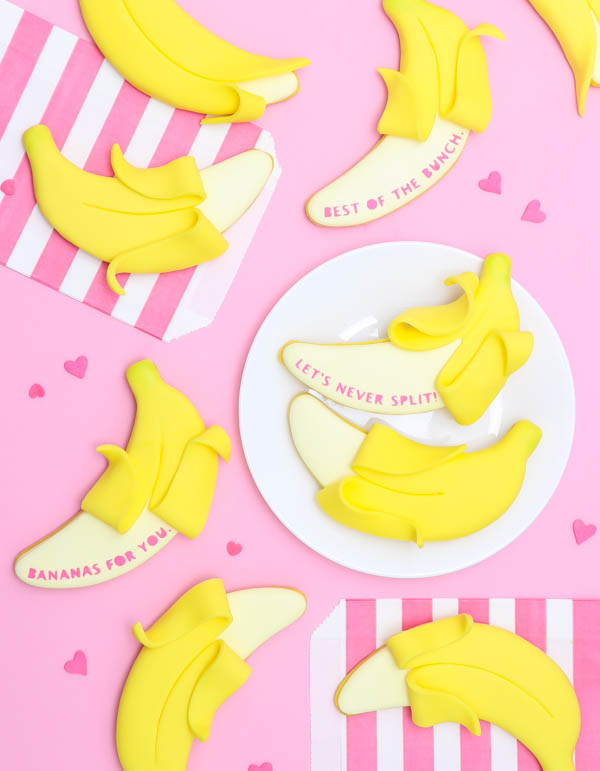 Heads up! To keep those legal gurus of the world happy, I need to inform you that some of the link in this post are affiliate links. In short – I may earn a small commission from the use of said link with no cost to you! But don't worry I only link to stuff I use, love, and know you will too!
I was also provided material for this post, however the content, process, and ideas are all my own!