We're officially three days from September, three days! Which means pumpkin, spice, apples, scarves, crispy air…eek! I get so crazy happy when the fall nears, it's that first hint of excitement for all of the things to come over the next few months – holidays! Sadly, while we're living in the desert we don't really get a fall, not like were use to in the north, but we've come to make due no matter where we are. Maybe we can't have changing leaves and the cutest of sweaters…but we can always have the flavors of fall, which helps bring fall wherever you are!
Since I'm respecting those of you hanging on to the last minute of summer (it's ok I forgive you) I won't post anything pumping quiet yet…but apples, apples are fair game! Once you try these apple crisp apples you will certainly agree. These are one of my new favorites and will popping out of our oven several times this fall.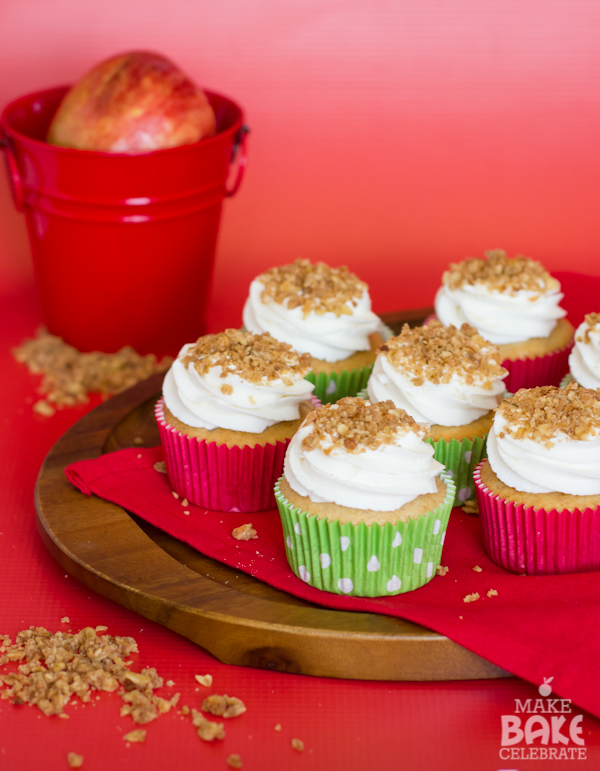 A few weeks ago we made a quick apple crisp with Krusteaz crisp topping, I just happened to have the things in the pantry and needed a quick treat. Oh my goodness, why don't we make apple crisp more often! It was so easy and oh man, let's just say there were no leftovers. I just love the flavors of apple crisp with a cool bit of vanilla ice cream on top and they translated to a cupcake perfectly!
Here's what you're going to need:
APPLE FILLING
4 Medium Apples Dices Into Very Small Pieces
1 Tsp. Cinnamon
1 Tbsp. Brown Sugar
4 Tbsp. Butter
3 Tbsp. Water
APPLE CINNAMON CUPCAKES
1 Box White Cake Mix
1 Tbsp. Cinnamon
1 Tbsp Brown Sugar
3 Eggs
1 Cup Milk
1/2 Cup Applesauce
1/4 Cupe Melted Butter Slightly Cooled
VANILLA BUTTERCREAM
1 Cup Unsalted Butter
1 Cup Shortening
1 Tbsp. Vanilla
8 Cups Powdered Sugar
6-8 Tbsp. Milk
CRISP TOPPING
1 Krusteaz Crisp Topping
5 Tablespoons melted butter
Step 1: Preheat oven to 350 degrees F. Line two 12-cup muffin pans with cupcake liners and set aside.
Step 1. Cook apples, cinnamon, brown sugar, butter, and water in a medium sauce pan on covered medium-low heat. Stir often until liquid is reduced and apples are soft. Let cool.
Step 3: In a medium mixing bowl, sift and set aside. In the bowl of a stand mixer (or large mixing bowl) using the paddle attachment, beat together eggs, milk, and applesauce on low speed. Add the dry ingredients and beat just until combined. Beat in melted butter just until combined. Once all ingredients are incorporated, scrape the sides and bottom of the bowl and turn mixer up to medium – high and beat once more for 15-20 seconds. Fold in cooled apple bits.
Step 4: Spoon 3 tablespoons of batter into each cupcake liner and bake on middle oven rack, for 16-18 minutes, baking up to 24 cupcakes side by side at a time. (for best results bake cupcakes 1 pan at a time or side by side on the same rack) Once a toothpick comes out clean, remove from oven and allow cupcakes to rest in pan for 2-4 minutes before removing and transferring to a cooling rack. Prepare pan and repeat this step with any remaining batter.
Step 5: While cupcakes are cooling, prepare crisp. In a 8X8 glass pan combined melted butter and crisp with a fork. Bake at 350 for 30-35 minutes until firm. Break crisp up into crumbles and place in a bowl to cool.
Step 6: To prepare frosting. In the bowl of a stand mixer (or large mixing bowl) using the paddle attachment, cream butter at medium speed until soft and smooth. Add shortening and beat together until soft and smooth. Add vanilla and beat until combined. Slowly add in powdered sugar beating slightly between each addition. Add in milk 1 tablespoon at a time beating in between additions until desired consistency. Turn mixer up to medium-high and beat for 1-2 minutes.
Step 6: Once cupcakes have completely cooled frost cupcakes with vanilla frosting. Then sprinkle with the crisp and enjoy!